Taxi Accidents And Damage Recovery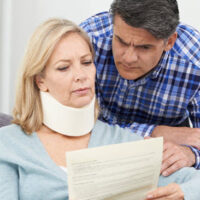 There are many reasons why Florida residents and visitors to the Sunshine State opt to order a taxi. Some people are on vacation and do not have a car of their own to transport them while others simply choose to pay another to drive them to work meetings or outings with friends. But too often, people riding in taxis and rideshare services forget that crashes and accident injuries are possible whenever you are in a vehicle. So, for example, always buckle your seatbelt when riding in any vehicle, taxi or your own car.
If you took all the precautions you could but were still injured when riding in the back of a taxi, you may be able to hold the liable party responsible. When reckless behavior leads to an injurious collision, compensation for medical expenses, lost income, and non-economic damages could be possible. Work with a Tampa personal injury attorney to secure a maximum settlement amount. Too often, reluctant insurance companies result in low offers. If this happens, an auto accident attorney can push for a higher amount.
Taxis and Insurance Coverage
There are regulations in place for Florida taxis, including rules surrounding what type of driver's license individuals driving a cab need and how much insurance must be carried by a taxi company. The minimum insurance requirements for taxis are higher than those carried by passenger car operators.
Insurance minimum amounts for taxis:
$50,000 for property damage
$125,000 per person bodily injury
$250,000 bodily injury for all persons
Just as accident reasons range from situation to situation for passenger car operators, there are a variety of reasons taxi drivers have been involved in collisions, from sleepy drivers to individuals not paying attention to the road because they are distracted by their cell phone or other items.
Rideshare Vehicles Are Not Taxis
If you were hurt while riding in the back of a rideshare vehicle, such as a Lyft car or an Uber SUV, your path to damage recovery will likely be different than it would be if you were hurt in a taxi. Rideshare vehicles do not have the same insurance requirements that cabs do, for instance. Determining who is responsible, the driver or the rideshare company will be part of the process.
Whether you were injured in a taxi, Lyft, or Uber, you need an experienced Tampa personal injury attorney to review your claim. Because personal injury lawyers have worked on many different vehicular crash cases, they know how to secure a full and fair damage recovery settlement.
Did you sustain an injury when riding in a rideshare vehicle or taxicab? Bring all the records you have to a skilled attorney to learn what options are available. The aggressive legal team at HD Law Partners will advise you on next steps. We are committed to fighting for your rights and will inform you of offers throughout the process, letting you know once an amount is full and fair. To get started, call 813-964-7878 to schedule a free consultation.