Significant Lawsuit Filed Against Tower Hill Insurance for Fraud & Other Crimes Connected With Hurricane Irma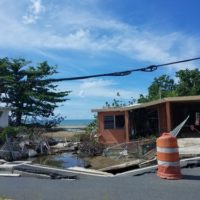 In September, a lawsuit was filed against Tower Hill Insurance in Florida, alleging that the company engaged in fraud concerning a number of claims filed by Hurricane Irma victims, defrauding them of money that they are owed. The lawsuit specifically alleges that Tower conspired with two other companies—Humble and Ladder Now—to deny or underpay compensation on various insurance claims filed by the hurricane victims.
According to the complaint, Ladder Now is an "unlicensed independent adjusting firm" that effectively worked with Humble, a consulting and restoration firm, to doctor fake engineering reports that ultimately found little-to-no damage done as a result of the hurricane. As a result, the lawsuit not only accuses Tower Hill of fraud, but also of mail and wire fraud, theft, and the use of unlicensed adjusters and engineers to systematically rob policyholders of premiums. The complaint alleges not only past harms to these policyholders—but ongoing harm—as a result of Tower's allegedly nefarious activities.
A Sordid History
According to the Better Business Bureau, Tower Hill Insurance Group has had a number of complaints filed against it over the last three years that describe customer dissatisfaction with the company. However, the consumer-based websites are arguably even more overwhelming when it comes to detailing complaint after complaint of the company routinely trying to rip people off by denying or shortchanging their claims, and going to exorbitant lengths to do so.
Your Options When It Comes To Bad Behavior
In addition to working with an attorney to allege that an insurance company like this is violating its contract with you and engaging in bad faith insurance activities, you also have the option of filing a Civil Remedy Notice of Insurer Violation when it comes to wrongs committed against you in the hurricane insurance claim context, including refusing to render the amount due, acting in bad faith by failing to properly and promptly investigate a claim, failing to pay the full amount of the covered loss, and failing to communicate with the policyholders; all in contravention of Florida law. In a nutshell, Tower Hill and companies that engage in these activities can be held accountable for failing to attempt to settle the claim in good faith when, under the circumstances, they could and should have done so. If this case is won, it will serve as a huge victory for the many Floridians who are currently fighting insurance giants that are illegally undermining insurance claims for the sake of profits.
Contact an Experienced Florida Hurricane Insurance Claim Denial Lawyer
If your home or business suffered from damage due to the hurricane, it is absolutely crucial that you work with an attorney to file your claim so that you do not become one of the many victims of insurance fraud, and if your claim has been shortchanged or denied, you have no choice but to work with an attorney to help you. Contact our Florida hurricane insurance claim denial attorneys at HD Law Partners today to find out more.
Resources:
housingwire.com/articles/46755-law-firm-levies-lawsuit-at-tower-hill-insurance-for-fraud-in-hurricane-irma-claims
complaintsboard.com/complaints/tower-hill-insurance-florida-c565346.html
bbb.org/us/fl/gainesville/profile/insurance-companies/tower-hill-insurance-group-llc-0403-3361/complaints