Important Financial Decisions to Make Before, During and After Divorce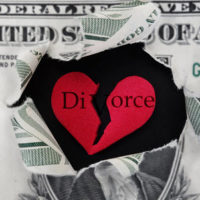 Divorce not only brings change to your personal/family life, but to your finances as well. This is why it is crucial that you make the right financial decisions immediately before, during, and soon after your divorce, so that you are on the right track. This can be done with the assistance of an experienced family law attorney who, by knowing the ins and outs of Florida state law, can ensure that you are on the right track in embracing your new future. Without ensuring that you have informed guidance, you could end up sacrificing retirement plans and other assets you've worked hard to acquire.
Just between 1990 and 2010, the divorce rate amongst individuals 50 years or older doubled. Unfortunately, when these couples plan for their retirement, they do so assuming that they will be together forever; an assumption that can end up hurting both individuals. This is why working with an experienced estate planning and/or family law attorney—even before you get married—can help simply ensure that you are protected no matter what happens.
Steps to Take
Other important steps you can take—throughout your life—include the following:
Retirement accounts: Make sure that you are signed up with your employer or start your own;
Bank accounts: having a separate account from any joint checking and/or savings accounts can help ensure that you are protected from equitable asset division. This starts with ensuring that you also have your own source of income, even if you just start small;
Credit: Make sure that you have your own line of credit, perhaps through your own credit card with just your name on it;
Start budgeting: If you don't keep a regular budget of income and expenses, start doing so. Knowing as much as possible about your financial needs will prove useful, regardless;
Wills: Everyone needs a will, regardless of your circumstances, in order to avoid probate. Meet with an estate planning attorney and start discussing what you foresee in the future.
Some say that businesses are a good model for couples because they prepare for losses. Examining romantic relationships to see if they are also good business relationships can be a wise decision. In fact, some financial advisors even suggest that, when you do retirement planning, you contemplate what divorce planning would look like at the same time, just to make sure you are protected, should something happen.
Divorce and Estate Planning Attorneys Who Care
Regardless of where you are in your marriage and life, working with an experienced family law attorney who knows about estate planning can help ensure that you and your family are taken care of, no matter what happens in the future.
The family law attorneys at HD Law Partners have been practicing family law in Orlando and Tampa for over 50 years combined. We have a commitment to our clients in ensuring that their rights and interests are protected, especially when it comes to financial planning. Contact us today to find out more about the services we can offer you.