Keeping Children Supported Throughout the Divorce Process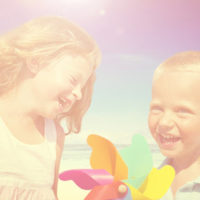 Anyone who has gone through (or is currently going through) divorce and has children knows that one of the primary concerns is the well-being of their children and how they will get through it. Change can be especially harsh on children, especially during stages when routines are so important to their development. According to the experts, what type of response the child has can depend upon whether they are in childhood or adolescence; where divorce can sometimes increase a child's dependence and regression, while increasing an adolescent's independence and aggression.
That being said, there are actions you can take to help provide the support that children need during times of divorce, such as:
Communication
Encourage your children to be honest with you and articulate what they are feeling. Be a good listener and ask questions.
In addition, maintaining a good relationship with your ex and avoiding conflict can help avoid the stress that children sometimes internalize when they are exposed to that conflict, or when they feel pressured to pass messages back and forth. Children can also internalize hurt when they feel like they need to take sides and "pick" a parent's side during times of conflict.
In addition, preparing before you speak with your child about divorce, and anticipating some of the tougher questions that they might ask, can also be helpful. Some of those questions will likely address how their lives might change in terms of two separate homes, their schools, communities, friends, etc. Also, remember, it's also ok to be honest and admit that you don't know the answer, but you will find out, and it will be ok. There is a way to be both honest but avoid being critical of the other parent. In general, younger children tend to do better with simpler explanations, while older kids may need more details.
Routines
Routines can help children feel stable and remind them that they can count on you for care and structure in their lives. Some parents have even tried the process of nesting, whereby both parents keep the children in the same house and take turns living in that house (although there are pros and cons for every arrangement).
Patience & Reassurance
Reassure your kids that they are not responsible for the divorce, and remember that while it may seem like they have accepted the situation one day, they may still be confused the next. Remind them, throughout the discussion, that you love them, and that this hasn't changed. Reinforce that message by being affectionate with them.
Legal Assistance in Family & Divorce Law
If you are dealing with a family law issue, having compassionate guidance by your side can make all the difference. Contact the HD Law Partners for a free consultation and find out how our experienced Florida family law attorneys can help answer any questions you might have and discuss next steps.
Resources:
psychologytoday.com/blog/surviving-your-childs-adolescence/201112/the-impact-divorce-young-children-and-adolescents
wsj.com/articles/when-parents-divorce-the-children-get-the-house-1477496914