Your Rights As A Florida Hurricane Victim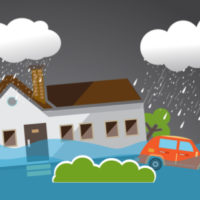 Florida property owners have thus far filed reportedly $2 billion in claims to their insurance companies seeking assistance for damage caused by Hurricane Irma. The storm was ranked as one of the most powerful to hit the Atlantic, and killed at least 33 people in the state of Florida alone.
It is crucial that insurance companies are prompt in responding to hurricane claims, as the more time that passes without access to their homes, the more unnecessary costs they experience.   Your level of protection largely depends upon what protection your state offers you.
Yet, while the state of Florida's two largest insurers—Universal Property & Casualty and State Farm—have indicated that they have plenty of resources to ensure that their clients are taken care of after the storm, thousands of people in Florida are reportedly being told that their insurance policies will not cover the losses they sustained, indicating that they may have a fight ahead of them in getting the protection they've already been paying for years.
The Issue of Floods
Frequently, policyholders are told that they have no coverage if their damage was caused by flooding, specifically. Coverage also tends to be hampered if the damage is due to both winds and flooding, combined. Because flood insurance is not included in most homeowner policies, some are required to have it, however, floods caused by hurricanes affect more land and homeowners than typical, expected floods, leaving homeowners in a bind.
The Law in Florida
Florida provides specific protection regarding homeowner claims, known as a "Bill of Rights," which is specific to the claims process (and in addition to other rights policyholders have in the state). Those include the right to:
Have your claim acknowledged within 14 days after submitting it;
Receive notice from your insurance company regarding how much of your claim is covered within 30 days of submitting your proof-of-loss statement;
Receive full settlement payment for your claim and/or the undisputed portion of the claim (or a denial, if applicable) within 90 days;
Free mediation from the Florida Department of Financial Services, should you so choose regarding your disputed claim;
Neutral evaluation of your disputed claim if it involves a sinkhole covered by your policy; and
Seek the assistance of the Florida Department of Financial Services, Division of Consumer Services for assistance with any claim.
The law also provides advice regarding what contractors you work with and in working with your insurance company before entering into any contracts for repairs or assigning policy benefits. 
Experienced Legal Representation in Central Florida Insurance Disputes
At HD Law Partners, we are dedicated to serving hurricane victims with their property insurance claims. We have decades of experience litigation insurance coverage disputes throughout the state of Florida. We can assist you in formulating an appropriate strategy for ensuring that you and your family are protected. Contact us today.
Resources:
sun-sentinel.com/news/weather/hurricane/fl-bz-hurricane-irma-aob-warnings-20170909-story.html
.insurancejournal.com/magazines/features/2017/10/02/465609.htm
myajc.com/news/state–regional/irma-victims-now-may-face-insurance-struggles/DhD9KKjZj3mmn7XxNUCpyL/