Where Unpaid Homeowners' Association Dues & Foreclosure Meet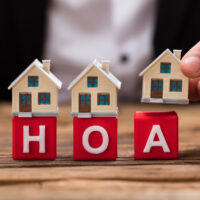 As Florida attorneys who provide legal representation to homeowners' associations (HOA), while also representing those affected by a foreclosure proceeding, the issue of homeowners' associations foreclosing on homes over unpaid fees can be a challenging one that affects more people than you realize; especially since some 30 to 40 percent of the country lives in homeowners' association communities. Many people and possibly even some homeowners' association do not realize that in Florida and a number of other states, if you fail to pay assessments and dues, the association can obtain a lien on your property that leads to foreclosure.  In fact, most people think that only their mortgage lender can seize their property.
However, the law also dictates that the association cannot file this lien unless it first provides the homeowner with 45 days to pay what they owe via a written demand. Still, in its assessments lien, it can not only include unpaid assessments in the lien, but also late charges, interest, and attorneys' fees. Defaulting on assessments means that the association can foreclose by filing a lawsuit, even if you are current on your mortgage payments. This is why – if you are involved in a disagreement with your association – failing to pay fees is not the way to address the disagreement; rather, speaking with an attorney to discuss your options makes more sense; especially since it can be difficult to even figure out how much is actually owed to the HOA.
Seizing A Home Over $250 In Unpaid HOA Fees?
There is no question that a number of homeowners do not completely understand the ability for associations to foreclose on their home after they have purchased it, and are shocked when they find themselves in the position of losing a home that they've paid hundreds of thousands of dollars for over several hundred dollars in unpaid homeowners' association fees. As a result, a number of associations try to ensure that they try to collect several times before resorting to foreclosure.
Exploiting The Tragedy
Still, the foreclosure issue can leave homeowners in a serious bind, especially when it comes to companies that may be tempted to purchasing homes under foreclosure for a small amount of money and seek to sell the homes back to their owners for much higher prices. It can also leave homeowners in a situation where they essentially still owe a mortgage payment for a home they no longer own.
Fighting Back
Some Florida associations have found that it is a waste of time to foreclosure on a home if it has a superior mortgage because even if the association ends up with the title, it is possible for the mortgagee to take the property from the association. In addition, it is important for all parties to note that the statute of limitations to pursue unpaid assessments is five years.
Contact Our Florida HOA & Foreclosure Attorneys If You Have Any Questions
If you are a Florida homeowners' association with a question about unpaid dues and foreclosure, or a homeowner potentially facing foreclosure, do not hesitate to reach out to our experienced Tampa homeowners' association attorneys at HD Law Partners today to find out more about your rights and options.
Resource:
marketwatch.com/story/condo-fee-foreclosures-become-headache-for-homeowners-2015-01-09
https://www.hdlawpartners.com/take-these-steps-before-you-rent-your-property-to-any-tenants/