What is the Florida Law on Marital Debt in a Divorce?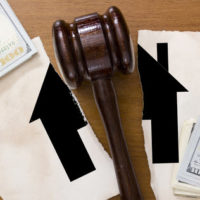 Similar to the division of marital assets during divorce, couples also typically have to deal with the division of marital debt when they part ways. Florida treats marital debt similarly to the division of property by splitting it up via equitable distribution once it is determined what is marital versus nonmarital. However, if one spouse inequitably incurred that debt, the courts also have the discretion to label that debt "non-marital" and assign more of that debt to the spouse who's responsible for it. This is important to note, as a new report released by Creditcards.com indicates that 12 million consumers have concealed a bank account or credit card from their spouses.
Thus, if you are going through or contemplating going through a divorce, you will need to work closely with an experienced family law attorney in order to ensure that you aren't unfairly responsible for the debt your soon-to-be former spouse largely built up without your knowledge or participation.
The Law in Florida
Florida law bundles the (equitable) distribution of marital assets and liabilities all in one, whereby, the courts set apart each spouse's nonmarital assets and liabilities, and in distributing them between the parties, starts with the assumption that the distribution should be equal unless there is justification for an unequal distribution based on all relevant factors, including but not limited to:
The contributions made by each spouse to the marriage;
The economic circumstances of the parties;
The duration of the marriage;
Any interruption of careers of educational opportunities involved;
Any contributions of one spouse to the career or educational opportunity of the other;
The contribution of each spouse to the incurring of liabilities; and
Any other factors necessary to do equity and justice between the parties.
The Reality of Marital Debt in a Divorce
Given that the law seeks to distribute everything—including liabilities—equally, this can be frightening to those who are both subject to and/or contemplating a divorce, to learn to what extent most couples are keeping financial secrets from each other. According to the statistics, the older you are, the more likely you are to have a secret account, and like any other indiscretion, what starts out small can build with time, where many secret purchases are $500 or more.
Work With an Experienced Florida Divorce Attorney
If you or someone you know is preparing to get married or going through a separation or divorce, it is crucial that you start protecting your financial interests as soon as possible in the process.
At HD Law Partners, we can help. Our divorce attorneys in Tampa, Orlando, and Sarasota have significant experience in working on divorce and property distribution cases. We can provide the legal representation and guidance you need and ensure that you remain protected, regardless of your particular circumstances. Contact us today and find out how we can help.
Resource:
consumeraffairs.com/news/report-finds-older-couples-more-likely-to-conceal-spending-from-spouse-021317.html