What is Covered Under Business Interruption Insurance in Florida?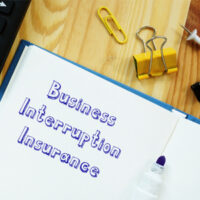 If you are like most business owners, you will do all it takes to protect your business at all costs. However, under certain circumstances, you may be unable to protect your business from unexpected events such as a natural disaster or pandemic.
Every business owner must consider purchasing business interruption insurance to protect their company from the unexpected extra expenses and loss of income. However, you need to understand what is covered under business interruption insurance before investing in it.
What is Business Interruption Insurance?
Business interruption insurance is a coverage that can help replace the income your business loses in the event of physical damage or covered loss. This type of insurance is very popular among business owners in Florida because the Sunshine State is no stranger to hurricanes that cause devastating damages and financial losses to businesses.
Your business may benefit from having business interruption insurance coverage because you need to be prepared for the unexpected. If you own or operate a business in Florida, having business interruption insurance is almost a necessity because of the hurricane season.
Or, as it was evident during the COVID-19 pandemic, your business may suffer the loss of income due to the government placing restrictions or shutting down the entire state. In other words, you never know what is going to happen the next week or even tomorrow, which is why business interruption insurance comes in handy to give you peace of mind.
However, when purchasing business interruption insurance, it is vital to double-check what is covered and what is not covered.
What Does Business Interruption Insurance Cover?
Depending on the type of your business interruption insurance, the policy may provide coverage for the following losses and expenses:
The revenue you would have earned, according to past financial records, had your business not been forced to shut down;
Rent, lease, or mortgage payments for the property or space your business temporarily operates from while the main property or space is being repaired or restored;
Expenses associated with relocation if you were forced to move to a new location;
Loan payments;
Payroll for your employees;
Taxes;
Training costs for employees who need to learn how to use new equipment after your property has been damaged; and
Extra expenses associated with moving to a new location (e.g., the cost of advertising your new location to inform your customers of the new place).
Every business interruption policy is different, which is why it is important to have an experienced business interruption attorney review your policy to determine what is covered and what isn't covered.
What to Do if Your Business Interruption Claim Was Denied?
Unfortunately, it is not uncommon for insurance companies to deny business interruption claims even when the business is requesting reimbursement for a covered loss. The language used in insurance policies is confusing or ambiguous on purpose to provide the insurer the opportunity to deny claims.
When this happens, do not hesitate to consult with a Tampa business interruption attorney to discuss your particular case and determine your best course of action. Schedule a consultation with our lawyers at HD Law Partners by calling at 813-964-7878.
https://www.hdlawpartners.com/developments-in-business-interruption-insurance-litigation-claims-brought-throughout-florida-country/