"What Hurricane Michael Damage Looks Like Today"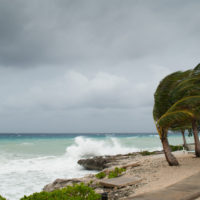 Seven months after Hurricane Michael hit Florida, the estimated losses from the Category 5 storm are currently over $50 billion. Property damage alone reportedly accounts for more than $5 billion, and many property owners' claims have gone unpaid by insurance companies that are supposed to make them whole again in times like these. In addition, federal disaster relief funding has been stuck in gridlock and affected by other devastated areas, such as California and Iowa, as well as other hurricane effected neighbors of Florida.
The Significant Loss
Hurricane Michael hit Florida with significantly more force than even Hurricane Katrina hit Louisiana. The storm was especially felt in coastal cities such as Apalachicola, Panama City, and a number of others; shredding boats, businesses, and homes, and causing a number of people to go missing. People not only lost property, but a number of individuals died as well as a result of the disaster. To date, some residents are still without power. Even a number of Florida parks are still closed today. For example, the hurricane destroyed 80 to 90 percent of Florida Caverns State Park and its buildings. Thousands of trees are still uprooted throughout the state and its national forests, with agricultural and forestry losses representing more than $3 billion. There is no question that, in order to rebuild, people are going to need a lot of help.
Mexico Beach, Florida in particular has been hard-hit, with the beaches and businesses still just concrete slabs. Towns still have no banks, gas stations, or grocery stores, and very few homes are habitable. Even sewer services are still unavailable. In addition, devastating, catastrophic damage was inflicted in areas such as Bay County, where more than 45,000 buildings were damaged and destroyed, including hospitals.
Without insurance companies coming through on insurance claims, things cannot get better, and that includes the demolition of damaged buildings and the rebuilding of new ones, as well as cities. Structural damage alone done to homes has reached what some call the tipping point; translating into homelessness and unemployment.
There Is More To Be Done: Contact Our Florida Hurricane Insurance Claim Attorneys
While the Florida Legislature approved an additional $220 million in the budget—bringing the total funding to close to $2 billion—a more comprehensive federal package is still pending. In addition, while the Florida Department of Environmental Protection has been promised $4 million from the federal government, these funds will only cover debris removal.
If you have suffered from the hurricane and have concerns about your insurance claim, contact our experienced Fort Myers hurricane insurance claim denial attorneys at HD Law Partners today to find out how we can help you and your family get back on the road to recovery.
Resources:
wfsu.org/post/fema-reimburses-florida-hurricane-michael-debris-removal
cnn.com/2019/04/19/weather/hurricane-michael-upgraded-category-5/index.html
abc3340.com/news/nation-world/six-months-after-hurricane-michael-made-landfall-mexico-beach-waits-for-disaster-relief
tallahassee.com/story/news/2019/05/07/donald-trump-hurricane-michael-disaster-relief-trump-rally-panama-city-beach-puerto-rico/1130136001/
https://www.hdlawpartners.com/hurricane-michael-debris-causes-new-wildfire-devastation-to-florida-homes-properties/