Tampa EMT Records and Financial Compensation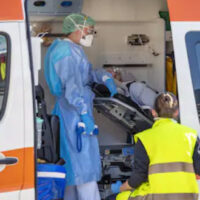 After sustaining an injury in the Tampa area, you may receive care from Emergency Medical Technicians (EMTs). In addition to their care providing you with a path to healing, if you want to pursue financial compensation later recognize that EMT records serve as key pieces of evidence to support your right to financial recovery.
Discuss how obtaining EMT records could fortify your case with a Tampa personal injury attorney if you want to learn more. A skilled lawyer will share what documentation is required to receive compensation and inform you of how working with an experienced injury lawyer can assist you in navigating the legal complexities involved.
Importance of Florida EMT Records and How to Obtain Them
EMT records provide a detailed account of the medical assessment a person receives at an accident site. The records also include treatment administered, the overall condition of an injured person, and information about how and why the injury occurred, so these records are invaluable in establishing the immediate severity of an injury.
As persuasive pieces of evidence providing clear details about the extent of your physical injuries and the urgency of medical intervention required, EMT records include data such as vital signs, observations, administered medications, and instructions given to healthcare professionals at a receiving healthcare facility should the injured party be transported to a hospital.
Sometimes EMT records are included as supporting documents, but if they aren't included within a medical record and you are moving forward with an injury claim, you will need to obtain the EMT records. Typically there is a specific process to follow.
First, you or your attorney will need to contact the relevant EMT service provider, which could be a private company, fire department, or ambulance service.
Then, you will need to make your request in writing, clearly stating the date, time, and location of the accident. You will also want to include your personal information and any identifying details about the responding EMTs, if available.
Finally, be sure to keep copies of all correspondence so you will have the appropriate documentation if you need to follow up with the provider.
Of course, when you are in the process of physically recovering from an accident, you may not have the time or energy to obtain and interpret medical records. That is ok, there are supports available.
How a Hillsborough County Injury Lawyer Can Help
A Tampa personal injury attorney can gather records for you, and because they have worked on similar cases they understand the medical terminology within the records, recognize their relevance, and know how to present them effectively during negotiations. A seasoned accident attorney can establish a clear link between your injuries, the accident, and the care provided by the EMTs. This will bolster the credibility of your claim and increase the likelihood of you receiving a maximum settlement.
Were you treated by a Tampa EMT after a car collision? The attorneys at HD Law Partners know how to secure EMT records to fight for a full and fair compensation amount. Call 813-964-7878 to schedule a confidential, free consultation.