Talking, Texting, And Distracted Driving In FL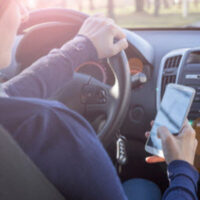 Collisions due to driver distraction occur for a wide range of reasons. In Florida, as is true in a lot of US states, the majority of distracted driving laws focus on texting. It is well known that individuals who are handling their mobile devices while operating a vehicle are a hazard. Because of this, people follow hands-free driving laws in Florida. These laws are in place to promote safer travel throughout the state.
While you are permitted to talk on your cell phone through a hands-free option, you still need to be sure your attention is focused on safe travel. Being cognitively distracted, meaning your mind is elsewhere, possibly pulled into an emotional family call or participating in a heated work meeting while driving, is also risky. If you sustained an injury because a Florida driver was illegally using their phone manually or a vehicle operator was talking using a hands-free option but still behaved negligently, talk to a Tampa personal injury attorney about your compensation options.
Texting as a Primary and Secondary Offense
Prior to 2019, texting and driving was a secondary offense in Florida. Essentially, this means you would need to be pulled over for a separate traffic violation and then your active texting could be addressed. But while driving hands free is permitted, using the bluetooth feature on your phone, for instance, choosing to manually interact with your phone could now result in you being pulled over and ticketed. This is because failing to drive hands free is currently a primary offense.
When the hands-free law was first introduced, it was put in place in construction zones and school zones. Then, the rules were rolled out to include texting while driving anywhere in the state of Florida. Penalties will depend on where the offense occurred and if the driver is a first time or repeat offender.
Claims and Legal Action After a Traffic Accident
Sustaining an injury in a Florida traffic accident can result in a lot of bills. You may have medical care expenses and physical therapy fees, for example. When illegal behavior, such as texting on a mobile device while driving, contributed to the accident, you should talk to a Tampa personal injury attorney about legal recourse. It may be possible to secure a full recovery amount through insurance claims. But if not, further legal action can be taken. Connecting with a lawyer early in the process means you can do everything possible to strengthen your chances of financial recovery.
Could compensation be in reach after your Florida accident? If another was driving while distracted, you should not have to ruin your financial future because you've incurred expenses due to their reckless behavior. With a legal professional on your side, you can secure a full and fair recovery settlement. When you are ready to get your claim started, connect with the compassionate legal team at HD Law Partners. Legal support is a phone call away. To get started, call 813-964-7878 to schedule a free consultation.