Study Finds That Third-Party Bad-Faith Insurance Claims Are Somewhat Out of Control in Florida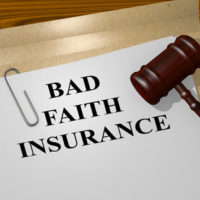 According to a new study, Florida's third-party bad-faith legal environment increases claim costs for every insured vehicle by an average of $106 per claim, or a total of more than $7 billion in additional claim costs over more than a decade. According to some experts, most of these costs can reportedly be attributed to the rapid growth of bodily injury liability claims, as well as Florida's legal rules and standards when it comes to resolving bad-faith allegations.
What Is A Bad Faith Claim?
Under Florida law, anyone can bring a civil action against an insurance company if they have been damaged by the company's failure to attempt, "in good faith," to settle claims when, under all circumstances, they could and should have done so, while acting fairly and honestly towards the insured, with due regard for the insured's interests.
 Florida's Trends to Be Compared to Other No-Fault States
The report compared key bodily injury liability claims in Florida to similar trends in three other states that are all no-fault (like Florida); specifically, New Jersey, New York, and Pennsylvania. According to the results, these three states experienced relatively stable injury claims over the study period after taking primarily administrative approaches to investigating and resolving bad-faith allegations on behalf of car insurance companies. Conversely, Florida's trends did not reflect this kind of stability.
Why Is Florida Different?
This phenomenon could be due to Florida failing to rely on these same approaches to resolving allegations of bad-faith, and, instead, allowing for unrestricted opportunities for claimants to file third-party bad-faith lawsuits against insurance companies. Specifically, some believe that the potential to win large settlements has created a powerful incentive for claimants and their lawyers to file car liability insurance claims that otherwise might not have enough merit to file here in Florida. Over time, this can pose a serious threat to Florida's auto insurance system.
Another contributing factor to this problem is the failure of the system's tort threshold to limit access to reimbursements under the liability portion of many auto insurance policies. For example, in similar (no-fault) states, bodily injury liability claim frequency is usually fairly low because the system is in place to limit the number of claims filed. One way of limiting this frequency is by providing claimants with ready access to no-fault reimbursement for medical bills and lost wages. However, this does not appear to be the trend in Florida.
Contact Our Florida Insurance Bad Faith Defense Attorneys
Insurance companies have a duty to thoroughly investigate all claims. However, they also have a duty to pay benefits only where coverage and liability are clear, and the amount involved is accurately documented.
At HD Law Partners, our attorneys represent insurance carriers when there is a dispute over coverage, damages, or liability. We also provide defense of claims alleging insurance bad faith. Contact our insurance defense attorneys today—we serve Orlando, Sarasota, Tampa, Bradenton, and surrounding areas of Florida.
Resource:
insurancenewsnet.com/oarticle/study-estimates-florida-third-party-bad-faith-costs-at-7-6-billion-for-12-year-period-2006-2017-2#.W6MgRtQpCt8