Sinkholes, Property Damage, And Insurance Claims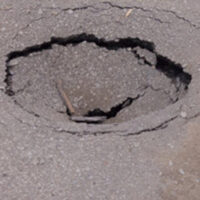 Sinkhole damage can be extremely expensive, and because of Florida's unique geology, compared to other US states, sinkholes happen more often than they do in other areas of the country. Because of this, there are specific regulations and laws when it comes to assessing sinkhole damage and obtaining compensation through insurance claims.
Insurance companies have a responsibility to follow through on the promises made in policies purchased by members of the public. That said, there are many examples of insurance companies trying to underpay on sinkhole damage claims. After all, insurance companies are like other businesses, they want to turn a profit. Legal teams work within insurance companies to protect their organization and their assets, you need a Tampa insurance attorney to protect your interests. A skilled lawyer will work to ensure you receive the settlement you need.
Structural Damage and Legal Assistance
Florida law makes it a requirement for state insurance companies to offer their policyholders coverage for sinkhole activity. But even if you do opt for sinkhole coverage, it is possible your path to compensation could be complicated. This is because there is a lot of documentation needed to prove you are eligible for recovery.
An insurance company could assert the damage sustained was due to another issue, but the reality is that sinkhole activity can result in an array of damages. There may not be a huge crater on your property, but if you notice one or more of the following issues, it could be due to a sinkhole.
Sagging trees or fence posts
Cracked walls or pavement
Fissures on pool decks
Doors and windows don't close and lock correctly
Water collecting in unexpected areas of your property
Once you alert your insurance company, they should investigate your claim thoroughly, fully inspecting your property.
If you believe your sinkhole claim was not investigated properly or was denied without assessing all the details that you shared with an insurance adjuster, talk to an attorney. In addition to negotiating with insurance companies on your behalf, many lawyers work with investigators who can give a value to your property damage.
Complete Information Submitted by Set Deadlines
When you hire a Tampa insurance attorney, they will work to be sure all of the paperwork connected to your sinkhole claim is complete. Too often, claims are denied simply because reports do not provide adequate information to support your compensation request. Don't give insurance companies a chance to undervalue your settlement, have a legal professional working on your claim each step of the way.
Are you coping with property damage due to sinkhole activity or another issue? To be sure you are accessing a full payout from your insurance company, reach out and connect with the legal professionals at HD Law Partners. Sinkhole activity can be difficult to prove, leading to denied insurance claims, but a skilled attorney knows how to secure the evidence required in order for you and your family to obtain monetary compensation. Call 813-964-7878 to schedule a free consultation.