Purchasing New Child Seats After An Accident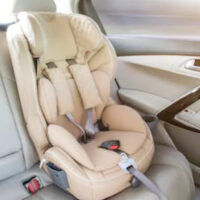 Prioritizing the safety of children is essential. So when young kids are traveling in vehicles it is important for them to be secured in a child safety seat, and if you were involved in a Tampa car crash and a child seat was in the car at the time of the collision, understanding how the crash impact affected the seat's efficiency needs to be analyzed. In most situations, purchasing a new child seat after an accident is advised.
After an accident, connect with a Tampa personal injury attorney to strengthen your future. A skilled lawyer can walk you through the monetary recovery process, including collecting the cost of a replacement child booster seat or infant car seat.
Compromised Efficiency of Child Car Seats in a Car Crash
Car seats for infants, toddlers, and young children are designed to protect these tiny humans in the event of a vehicle collision. But it is important to realize that the force generated during a car crash can weaken or harm the structural integrity and effectiveness of a child car seat. This can be true even if there are no visible signs of damage when you or someone you know looks at the seat. This is because force can put stress on the materials, such as weakening stitches or loosening harness systems.
Because of this structural change possibility, manufacturers and child health professionals typically recommend replacing a child car seat after any moderate to severe accident. Consulting the car seat manufacturer's guidelines and having a discussion with a certified child passenger safety technician can provide you with information if you are unsure how to proceed.
Including Replacement Costs Within a Personal Injury Claim
When pursuing a personal injury claim after a Florida traffic accident, a veteran Tampa personal injury attorney can help you seek compensation for a lot of different types of damages, including child car seat replacement costs. There are a lot of different forms of documentation your lawyer will collect in order to fortify your claim, such as receipts or estimates for replacement seats. Evidence is essential for reimbursement requests given to insurance companies.
Do not rely on a visual assessment to determine if the seat is in good shape or not, because there can be damage that can't be seen but is substantial enough to make the car seat less effective should there be another collision. Following a Tampa car accident, healing from a crash injury and replacing damaged property is one step, but you have to remember the next step, which is planning for a safe future.
Are you considering shopping for a new child car seat after a FL car wreck? Discuss the particulars of your case with a lawyer as it may be possible to include the price of the replacement seat within your personal injury claim. To have the full worth of your claim assessed, gather all the details you have and share them with the legal professionals at HD Law Partners. Pick up the phone today, call 813-964-7878.