Needing a Divorce in the Time of the Coronavirus: How to Protect Yourself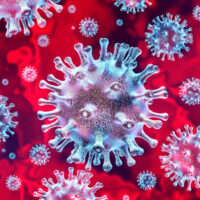 There is no question that the coronavirus quarantine is placing a strain on a number of relationships, and has made some realize that divorce is their only option for moving forward with their life. One of the main stressors involves people losing their jobs and/or a percentage of their net worth as a result of the quarantines and market upheaval. Some separated parents who are not yet divorced are also finding themselves in compromised situations due to the virus, whereby they now have new concerns about the other parent spending time with their children, which is also speeding up a desire to move forward with divorce. Some in the throes of divorce are even now find themselves living in the same house together due to the timing of the quarantine, and a percentage may be stuck in an abusive situation, not necessarily able to run to a friend or family's home for shelter due to social distancing concerns. Those at risk of physical abuse are especially vulnerable now right now and may not be able to seek out medical help by going to the hospital due to virus concerns.
During this time, it is important for people to realize that filing for divorce is not an option, as any judges that are making themselves available are doing so only for emergencies such as domestic violence. Still, it also makes sense to discuss these issues with a divorce attorney as soon as possible so that as soon as the cloud lifts and the courts reopen, you are ready to go, do not suffer from the backlog, and are using this time to prepare and protect yourself. This could also be important for some because they will want to get the divorce filed before certain assets start to increase in value again and some services may be available at the moment even though you do not realize it. For example, restraining orders are still considered essential services: Even with a pandemic, courts can order abusers to move out of the home, and some courts are even getting creative and finding ways to use technology to allow some documents to be e-filed and allow people to attend court via video conference.
Using This Time To Plan Creatively & Anticipate How The Virus Will Affect Divorce
Your attorney can be helpful in trying to come up with a creative, effective solution to help you in the short term in the event that whatever you need cannot be filed at this time. For example, some may want to plan for the possibility of mediation or alternative dispute resolution as a potential solution to the court closures and backlog. In addition, most-everyone will likely want to discuss what to do about any financial fallout that has occurred to investments and financial obligations due to the coronavirus, including any changes to the job market that might affect post-divorce plans and any potential child support payments.  If this specifically affects you, you and your attorney may also want to discuss preemptively addressing the court about child-related financial obligations, as child-support cannot be modified once that the payment becomes due. it is also important to realize that any property division issues that include selling the family home also will also be affected by the virus.
In sum, consider taking the following considerations and steps into account in order to help your peace of mind this time:
Plan for how you will pay for your living expenses during and after divorce
Plan for any business evaluations, home appraisals, etc. to be revalued
Assess what is likely to be affected by the virus and plan accordingly with your attorney, such as financial settlements, divorce settlement proposals, any plans to sell your home, co-parenting arrangements, child support payments, etc.
Understand the specifics of how the virus is going to affect your divorce timeline and any corresponding financial repercussions, and update your financial documents accordingly
Contact Our Florida Family Law Attorneys for Help
Family court issues can already be difficult enough without also having to deal with the stress brought on by the coronavirus. When it comes to divorce and other family law issues, you need an experienced Tampa family attorney on your side to help ensure your best chance for success. Contact HD Law Partners today to find out about our family law services and our dedication to our clients.
Resource:
forbes.com/sites/heatherlocus/2020/04/01/6-ways-the-coronavirus-can-infect-your-divorce–and-simple-steps-to-protect-yourself/#40156f632b65
fastcompany.com/90484695/i-could-knife-him-in-the-back-what-its-like-seeking-a-divorce-during-coronavirus
nypost.com/2020/04/03/sick-of-you-lawyers-see-coronavirus-divorce-uptick/
https://www.hdlawpartners.com/preparing-for-a-divorce-deposition/