Lane Change And Merging Collisions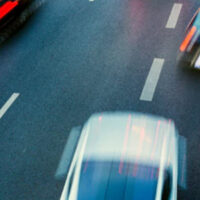 Merging and changing lanes is part of driving and typically can't be avoided, but sudden and illegal lane movements are risky and have led to accidents around the state of Florida. This can happen if another driver moves into your lane abruptly, without a signal, giving you no time to react. Or if you are in a situation where the number of lanes is reducing and a driver recklessly merges, putting others at risk of property damage and personal injury.
It is important for all drivers to safely assess their surroundings before merging or changing lanes because the risk of collision is high. One report by the National Highway Traffic Administration states around 10% of vehicular accidents are connected to lane changes.  After a collision due to an illegal lane change or improper merge into traffic, discuss monetary settlement options with a Tampa personal injury attorney.
Bad Weather, Blind Spots, and Distractions
Factors leading to car accidents vary. For instance, if one driver isn't paying attention and another driver notices they are about to make a reckless move but are unable to get out of harm's way due to weather conditions, there is more than one accident risk in play.
When it comes to lane change and merge collisions, they are often attributed to one or more of the following:
Driver error, possibly due to distraction or fatigue
Vision was impaired due to bad weather conditions
Blind spots were not checked or mirrors were not positioned correctly
Because there are recognized risks, adjusting driver behavior is advised. This means taking additional care, such as driving at a safe speed when there is heavy rain and delaying a trip when you simply feel too tired to actively pay attention to your surroundings on Florida roadways.
Your Lawyer Can Investigate the Event
While it is true that a police report would likely contain information relevant to why an accident occurred, your Tampa personal injury attorney can dive deeper into the evidence if it would strengthen your claim. For example, they could talk to witnesses or ask area businesses for their security camera footage, which may have recorded important data at the time of the crash. When you retain an attorney, they are working to secure the best settlement offer. That means gathering documentation to push back on offers that are too low to pay off your accident expenses.
Were you injured when a FL driver performed an illegal lane change? There could be a path to securing a full and fair recovery settlement. To be sure your best interests are being kept top of mind, talk to a legal professional about how to protect your rights. Getting started is as simple as sharing your story with the compassionate legal team at HD Law Partners. Then, our attorneys will aggressively fight for your rights. When another was reckless, you should not have to pay extensive bills created by their negligence. Thankfully, legal support is just a phone call away. When you are ready to get started, call 813-964-7878 to schedule a free consultation.