Hurricane Season and Risks of Operating a Motorcycle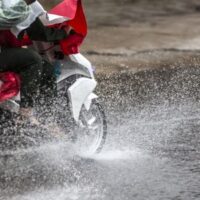 Living in Tampa, Florida, means many lovely, sunny days, but it also carries the risks of hurricane season. When people think of the dangers of hurricane season, property risks are often top of mind, but there are also travel risks, such as the dangers of operating a motorcycle during hurricane season.
A Tampa personal injury attorney can guide you through the claims or court process if you were involved in a FL motorcycle accident. Understanding risks can help you stay safe, and when an accident does occur, legal counsel can protect your rights.
Increased Precipitation and Limited Visibility
While there are many large risks to operating a motorcycle during hurricane season, one of the biggest dangers for motorcyclists and others on the roads is the increased rain and wind. Rain can create slick roads, reducing traction and increasing the risk of hydroplaning, while high winds make it difficult to control a motorcycle. This can be especially true on bridges and elevated roads.
Another danger is that heavy rain and winds can make it hard to see the road ahead, and limited visibility can increase the risk of collisions. Add to this increased traffic, particularly if there is a push for Tampa residents and visitors to evacuate or seek shelter, and safely navigating roads can be complicated.
How to Stay Safe Riding During Bad Weather
There are steps that motorcyclist operators can take to protect themselves during hurricane season, and many of these tips apply to others using Florida roadways during hurricane seasons as well.
Check the weather forecast before traveling. If there are alerts about hurricanes or other severe storms, pay attention to the forecast and consider postponing your trip.
Wear appropriate protective gear. This includes a helmet, eye protection, appropriate clothing, and sturdy, non-slip boots.
Slow down. Reducing your speed and increasing your following distance when there are wet or windy conditions is essential.
Avoid standing water. Puddles and other forms of standing water are silent risks, they may initially seem to be not harmful, but they can reduce your traction and increase your risk of hydroplaning.
Be cautious on elevated roads. Bridges and elevated travel paths can experience even higher wind gusts when weather is bad, which can make it difficult to control a motorcycle or vehicle.
Stay visible. Headlights and wearing bright or reflective clothing, whatever the time of day, can help to combat visibility issues.
Avoid riding during heavy traffic times. Rush hours and traffic areas that tend to experience bottle necks should be avoided.
But even when a motorcycle operator or vehicle driver is being as safe as they can, unexpected crashes are still possible. If you are involved in an accident during hurricane season, seek medical attention immediately and contact a Tampa personal injury attorney who can help you understand your legal rights and options.
Was weather a contributing accident factor for you? The lawyers at HD Law Partners have over 40 years of combined personal injury experience connecting clients with compensation. Call 813-964-7878 to schedule a free consultation.