How to Prove Breach of Contract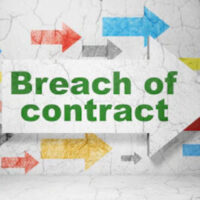 In business communities around the world, legal contracts are the foundation of agreements and transactions. While these contracts can smooth business dealings, there can be complex disputes if one of the parties involved fails to uphold their end of the bargain.
But if you believe someone has not abided by the terms outlined in a business contract, it can't simply be your word against theirs, you need to prove breach of contract. You don't have to do this on your own, there are experienced Tampa business & corporate law attorneys who can effectively represent your interests and protect your rights under Florida law.
Demonstrating Failure to Fulfill Contractual Obligations
If you believe another party or person breached a contract, you must be able to demonstrate that they failed to fulfill their contractual obligations. Usually the type of breach will be designated as material breach and minor breach. A material breach occurs when a party fails to perform a significant portion of the contract and a minor breach refers to a partial or immaterial failure to perform. This distinction is vital as it will influence what legal course of action is possible next.
When you connect with legal counsel, they will carefully review the contract or contracts in question and then begin to gather evidence to prove there was a breach of contract. Contracts typically consist of several components; an offer, acceptance, consideration, and mutual intent to be bound, and some of the items that could be gathered to prove your case could include correspondence, invoices, delivery receipts, witness statements, and other forms of documentation. Through the process of analyzing these materials, your lawyer will be able to identify discrepancies and shine a light on areas where the other party failed to meet their contractual obligations.
Counter Arguments, Defenses, and Legal Remedies
Another way your attorney will protect your rights is through anticipating potential defenses that the opposing party may begin to assert. There are many defenses to breach of contract disputes that could be employed, including impossibility or failure on the part of another party to fulfill on a condition. Strengthening your case is possible when you prepare for strong counterarguments that could be launched to undermine the validity of your claim.
What available legal remedies for breach of contract are available to you will depend on the details of your situation, but you may be able to secure compensatory damages, restitution, or even punitive damages.
Proving breach of contract is not simple, it is a complicated endeavor that requires careful analysis, strong evidence, and persuasive arguments. Tampa business & corporate law attorneys understand the essential elements of a strong case and what strategies could lead to the best outcome for their clients.
Who failed to keep their contractual obligations to you or your business? Whether the other party is a person or an organization, there are Florida business lawyers who have the knowledge you need to hold the other party accountable. Navigate your contractual dispute with confidence, connect with the legal professionals at HD Law Partners. Call 813-964-7878.