Florida Blind Spot Crashes And Injury Claims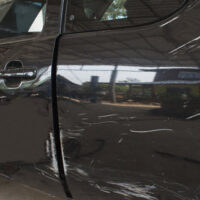 Accidents are scary, traumatic events. Drivers do what they can to avoid them in order to keep themselves, their passengers, and others they are sharing the roads with safe. But there are times when collisions occur, and sometimes it is because a Florida driver forgot to check their blind spot or didn't do so effectively.
Merging and lane changes can lead to sideswipe accidents. If you are recovering from injuries sustained when the side of your car or truck was struck by another vehicle, talk to a Tampa personal injury attorney. An experienced lawyer can help you obtain the settlement you need to pay off expenses connected to accidents, whether you were involved in a sideswipe accident, rollover event, or rear end crash.
Understanding Blind Spots and Accident Risks
The zones around your car you are unable to see when you are seated correctly at the wheel of your vehicle are your blind spots. For example, you can see what is in front of you and what is available through a glance at your side mirrors and rear view mirror, but your mirrors do not reflect every area. To check your blind spots, you need to, safely, turn your gaze over your shoulder.
In driver education classes, blind spot zones and how to correctly check them is covered extensively. Even though people learn this in the driver's education process, many fall into bad habits once they obtain their license. Merging into traffic or changing lanes creates accident risks. Doing so safely is essential.
Blind Spot Neglect and High Speeds
Any accident that happens at high speeds can lead to extensive harm and serious injuries. If a person is traveling quickly and changing lanes, and fails to check their blind spot, they could sideswipe another vehicle. The force of this collision could even prompt a rollover.
It is possible an insurance company adjuster will contact you and offer you a settlement following a sideswipe accident, rollover, or other collision that occurred as a result of blind spot neglect. While the adjuster may tell you the best thing you can do for yourself is to settle as soon as possible, they may not be seeing all of the compensation possibilities. When you work with a Tampa personal injury attorney, you will have an expert advocating solely for your needs each step of the way. Your lawyer could see a path to a larger recovery package.
Were you sideswiped because a Florida driver did not check their blind spot and recklessly changed lanes? A legal professional can guide you through the personal injury claim process and will work to be sure you obtain a full and fair recovery package. When you are ready to have an expert on your side, connect with the experienced legal team at HD Law Partners. Seasoned attorneys are familiar with the specifics of personal injury cases, including sideswipe accidents. Let our attorneys assess your documentation so next steps can be strategized. Call 813-964-7878 to schedule a free consultation.