Florida Appellate Positions and What They Do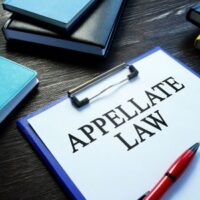 The appellate process plays a crucial role in ensuring that justice is served correctly and fairly throughout the state of Florida. Whatever legal situation has led you to consider an appeal, understanding the roles of state appellate judges, clerks, and panels can shed light on how your case will proceed.
Bring your Florida legal questions connected to the appeals process to a Tampa appellate attorney. A skilled lawyer will compassionately listen to the details of your situation and can walk you through how key appellate players will play a role in your case.
Appellate Judges, Appellate Clerks, and Appellate Panels
Sometimes referred to as appellate justices or appellate justices of the peace, appellate judges are responsible for reviewing the lower court decisions. When doing so, they are assessing whether there legal errors took place. They are not in a position to retry the case or reexamine the facts, an appellate judge's role is to focus on the application of legal principles. Their job duties include the following.
Review legal arguments. Appellate judges take time and care to analyze the legal arguments presented by both parties. This is done in order to determine if there were errors, such as the law being applied incorrectly or legal principles being misinterpreted.
Evaluate decisions of lower courts. Looking over a lower court's rulings, decisions, and judgments, appellate judges work to ensure decisions made were in accordance with established laws and procedures.
Issue opinions. Once a Florida appeals case has been reviewed, an appellate judge provides their written opinions, which outlines if they agree with a lower court and an explanation of their reasoning.
Providing administrative support to the appellate judges, appellate clerks are responsible for the following tasks.
Management of cases. It is the responsibility of appellate clerks to manage the files and documents of appeals cases, including appellate judge schedules.
Preparation of documents. There are many documents to attend to, and appellate clerks often draft orders, opinions, and other documents depending on the needs of the judge they are clerking for.
Appellate clerks often share case updates and procedural communications with attorneys, litigants, and others involved.
When a group of appellate judges collaborates in the review of cases, they are called an appellate panel. For more complex or significant cases, appellate panels are assigned. Then, there is an opportunity for more than one experienced judge to review a case and a final decision is made through discussion, deliberation, and a majority vote.
Legal Errors Prompt Appeals
In Florida, it is your right to appeal a lower court decision when a legal error affected the outcome of the case. And if you do wish to appeal, understanding the roles of appellate judges, clerks, panels, and other positions within Florida's legal system can be helpful.
When considering an appeal, seek guidance from an experienced Tampa appellate attorney who can walk you through the intricate appellate process and increase your chances of a successful appeal.
What appeal questions do you have? Bring your inquiries to the legal professionals at HD Law Partners. Call 813-964-7878.