Facilitating The Divorce Process: Financially And Emotionally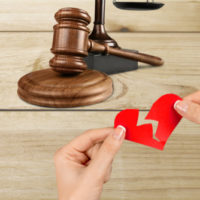 It is easy to be bombarded by information here and there about how divorce leads to more complicated financial circumstances. However, if you do it right—and work with the right attorney—you can complete the process without placing a financial strain on your family. Below, we discuss some of the pointers to keep in mind as you approach the divorce process:
Interview Several Different Attorneys
 Make sure that you do your homework when it comes to selecting your divorce attorney. Don't just take one person's recommendation or work with the first person who comes up online; instead, interview several different attorneys and note who is paying attention, providing you with detailed information on how billing works, etc.
Trust your intuition when it comes to deciding who you are comfortable with. If you sign an engagement letter, make sure that you and your attorney are very clear on what the hourly rate will be. Also make sure to ask whether the attorney works with any junior attorneys and/or paralegals, as that can sometimes lower the overall costs.
Do Your Research & Stay Organized
 Note that the more research and work you do on your own case, the fewer costs you will have to incur with your attorney. This involves keeping a binder of documents, staying organized, grouping your questions together and sending them to your attorney all at once instead of individually, etc.
Know Your Options
Also keep in mind that divorce does not necessarily equal litigation: You always have the option of working with your attorney to pursue collaborative divorce or mediation if your priority is to stay out of court. Note, however, that in order for these methods to work, you eventually have to come to a deal and ensure that you and your attorney have minimized any financial blind spots that might spring up along the way.
Keep Your Head Clear & Your Eyes on the Prize
Overall, keeping your eye on the big picture and being willing to negotiate will help you and your attorney facilitate the divorce process. Also note that, because every couple and family is different, what worked for a friend's divorce isn't necessarily what will work for yours. Keeping your head clear and doing what you need to do in order to stay relaxed can help keep things moving smoothly and prevent costs.
Know That Better Times Are Ahead
 There was recently an op-ed in the news titled "divorce made me a better mother." Amidst all the many messages you may be inadvertently receiving concerning the toll that divorce can take on a family, keep in mind that many people feel saner once that the stress of a difficult relationship is out of their lives.
Contact Us for Help
 The attorneys at HD Law Partners are devoted to our Florida clients going through a divorce. Contact us today with your divorce questions—we serve Orlando, Sarasota, Tampa, and surrounding areas.
Resources:
cnbc.com/2018/05/10/how-to-get-a-divorce-without-going-broke.html
nydailynews.com/opinion/divorce-made-better-mother-article-1.3985178