Divorcing Later In Life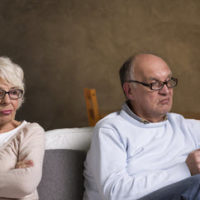 The holidays are that time of the year when many Americans start thinking about divorce and a fresh start. January tends to see the highest number of couples seeking divorce.
In addition, the most common age for divorce is the mid-to-late 40s. It tends to coincide with the youngest child going off to college, when many couples realize that their relationship has changed, and they no longer have the child around to "keep the relationship breathing." This also tends to be the time when a couple is planning for retirement, which can place additional stress on the relationship.
If you have been contemplating getting a divorce, because it is the holidays, having to think about and plan for divorce on your own can be beyond emotionally overwhelming. Below, we discuss some important guidelines in an attempt to reduce the stress that often accompanies divorce.
Broaching Divorce with Your Spouse
Know that the time and place can often be just as important as the words you use to discuss your desire to seek a divorce with your spouse. If you have children, it might also be beneficial to ensure that they are on a trip or overnight so that both of you have time to process the discussion instead of having to focus on parenting.
Also keep in mind that while you have had time to think about the idea of divorce and the impact it might have on you and others, your spouse may not have; thus, be compassionate in approaching them to discuss the situation.
Talking To Children about Divorce
With that in mind, if you share children with your spouse, know that this is a subject that will also need to be broached (i.e. how to share the news with them). As one of the first activities you and your ex will perform in co-parenting, it is an important one. At the end of the day, both of you want to keep the children's best interests at heart.
There is no question that divorce involves a certain amount of trauma. Not only are parents concerned about their children, but they are also trying to figure out finances and make arrangements for a stable home. In general, the more that you plan ahead, the better off everyone will be–even if your children are "grown up" and have already left for college.
Legal Assistance in Family & Divorce Law
If you are contemplating getting a divorce, sometimes speaking with an expert and laying out a plan or foundation on how to proceed along a path and a timeline that works best for everyone involved can help ease your mind. Contact one of our Florida divorce attorneys at HD Law Partners today for a free consultation and find out how we can help answer any questions you might have.
Resources:
bravotv.com/personal-space/this-is-the-most-popular-age-to-get-divorced
goodmenproject.com/families/divorce-christmas-list-bbab/