Divorce & Insurance Policies: Preventing Later Disputes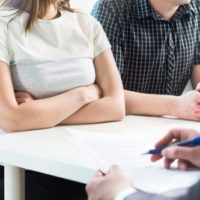 When couples are contemplating or going through divorce, they already have too much to worry about: Depending upon their particular circumstances, that often includes the family home, the children, assets, and more. The last thing that most couples anticipate is also having to tackle an insurance dispute.
And yet, life insurance policies are one of the most important aspects of the divorce, but without ensuring that the proper documentation is in place, divorcing couples could be setting themselves out for a serious battle.
Support in Perpetuity
Life insurance policies can provide support and assurance where other payments—such as alimony—cannot, as they terminate upon death. Under the law, former spouses can remain named beneficiaries to life insurance policies even after the divorce has long been finalized.
Carefully Craft Your Divorce Settlement
A recent decision out of the United States Court of Appeals for Sixth Circuit upheld the importance of divorce decrees (i.e. settlements) even over later changes in named beneficiaries in terms of what qualifies for a qualified domestic relations order under the Employment Retirement Security Act. This decision reinforces the importance of carefully crafting settlement agreements.
However, it is important to note that simply adding in the proper language to the settlement agreement—i.e. providing for the continued existence of the policy with specific beneficiary designations—is not enough: The spouse who is now the owner of the policy must also be provided with the ability to access the relevant information about the policy—even if they are the named beneficiary. Some of this basic information includes when premiums are due, how many have been paid, if any changes are made to designation(s) and/or coverage, etc.
And yet, even establishing access to this very basic information is arguably becoming more and more difficult with the growing focus on cyber security and data privacy, as more and more life insurance companies are requiring very specific authorization, court orders, etc.
Work With an Attorney Who Understands Both Family Law & Insurance
Typically, beneficiary decisions can be made with the assistance of your attorney during divorce settlement negotiations; however, complications can arise when new life insurance policies or accounts need to be created or adjusted as a result of the divorce, as they could require motions to be filed after some time, when the ex-spouse may not be cooperative. This is why working with an experienced attorney who not only practices in divorce, but is very familiar with insurance policies, is imperative.
Florida Divorce Attorneys
If you and your spouse wish to dissolve your marriage, or are well underway in obtaining a divorce, there may be a number of important matters you do not realize must be addressed before your divorce is settled.
Allow our Florida family law and insurance attorneys to provide you with guidance on these issues—contact us at HD Law Partners in Florida today to find out more.
Resources:
leg.state.fl.us/statutes/index.cfm?App_mode=Display_Statute&URL=0700-0799/0732/Sections/0732.703.html
dol.gov/general/topic/health-plans/erisa