Chest And Upper Body Collision Injuries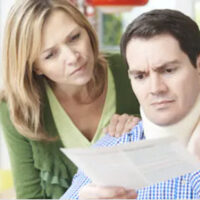 There are many serious car collision injuries that are not visible, including harm to the chest and upper body. If you are experiencing pain in your chest after a Florida car accident, you should not ignore this signal from your body. Even if the pain is not consistent and only appears off and on, it could be an indicator of a health issue.
While chest pain could be bruising from impact force that will heal with home care, it could also be an indicator of a life-threatening issue. Do not assume the pain is no big deal. Instead, see a healthcare provider and have your pain assessed. Putting off medical care because you are worried about the expense is not advised. If you do end up collecting many medical bills due to an upper body injury, an experienced Tampa personal injury attorney can work to be sure you receive the monetary recovery you need.
Blunt Trauma, Fractures, and Treatment Plans
Blunt force trauma is a body injury caused by an attack, impact or injury with a surface. While there is no penetrating injury, meaning the object does not create an open wound, there is often bruising. In car collision situations, blunt trauma is possible when a body is slammed against a dashboard or wheel of a vehicle, for example.
While bruises are typically minor injuries, having them assessed is still important as you will want to have a doctor determine if there is damage under the surface of the skin that is not visible to the naked eye. If the doctor does discover indicators of a larger issue, one of the following health issues may be present.
Harm to your sternum
Trachea injuries
Bone breaks
Damage to internal organs
Once a health concern is diagnosed, a treatment plan can be developed in order for you to heal properly and as quickly as possible.
Prompt Care and Insurance Claims
Additionally, seeking care in a timely way will strengthen your personal injury claim, if you end up needing to file one to financially recover from a car collision. One of the common reasons for insurance adjusters to deny a claim outright or reduce the amount of a settlement package is because a doctor was not seen right away. The insurance adjuster could work to connect the injury to another life event, saying the car accident is not the reason for the chest injury. Talk to a  Tampa personal injury attorney about your vehicular collision compensation options.
Has a chest injury you sustained in a Florida car accident led to medical treatment and income loss? If you need monetary recovery to cope with all of the expenses connected to your accident injury, connect with a legal professional who will calculate the value of your claim. Share your chest injury documentation with the compassionate legal team at HD Law Partners. Even if you don't have all of the documentation you need now, your attorney can work to secure that data for you. To get started, call 813-964-7878 to schedule a free consultation.