12 Signs That Divorce May Be a Happier Choice for You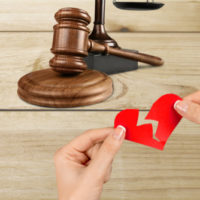 In contemplating whether or not you want to get a divorce, the experts suggest not only asking yourself what your goal is and whether divorce is your best option to achieve it, but to analyze a number of potential red flags, as opposed to just one. Below, we discuss 12 that you may want to take a close look at:
You are no longer eating together
While this may seem like a minor issue, it may be a sign of something more major—i.e. that the two of you are disjointed and lacking in that connection time.
They are suffering from addiction and refuse to get help
This not only applies to issues such as alcohol, drugs or gambling, but severe mental health issues as well, especially any that are endangering you or others.
You are only still together because of your children
If this is the case, it could be a sign that the connection between the two of you has suffered or that you have put so much energy into your children that the relationship has suffered. Keep in mind that in some circumstances, it can be more difficult on your children to wait to divorce until they are older or leave home for college if there are unhealthy behaviors associated with staying together.
You are no longer having fun together
This sometimes indicates that there is a certain amount of resentment that can be difficult for couples to get beyond.
You are living separate lives
You are making decisions without your partner entering your awareness or interest.
You are no longer physically intimate and/or you would be fine with them seeing someone else
This can also be a sign that the connection is suffering, as physical intimacy and monogamy is what holds some relationships together.
The relationship is lacking in respect
If, for example, you or your partner is making decisions or engaging in actions you know causes the other person hurt.
Other Signs
Other signs that the relationship may be too deteriorated to salvage and this may be making you unhappy include:
They talk about you behind your back and/or make fun of you during arguments
You don't want to come home or the sound of your partner arriving home fills you with anxiety
You no longer feel empathy or tenderness towards them and instead there is negativity
The thought of ending the relationship is a relief
Contact Our Florida Divorce Attorneys to Find Out More
If you have reached the point in your relationship where you wish to dissolve your marriage, our attorneys are here for you. There are a number of steps you will need to take in order to ensure that you are protected throughout the process, and we can provide the experienced counsel you are seeking. Contact our Tampa divorce attorneys at HD Law Partners today to find out more.
Resource:
womenshealthmag.com/relationships/a29126470/should-i-get-a-divorce/
https://www.hdlawpartners.com/help-communicating-with-your-ex-after-divorce/