Hurricane Michael Debris Causes New Wildfire Devastation to Florida Homes & Properties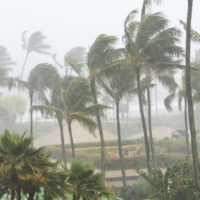 A devastating fire broke out in the Florida Panhandle on March 30, and would have been reportedly easy to contain, but, instead, spread and caused a significant amount of devastation to homes and other properties due to debris that was leftover from hurricane Michael. According to the reports, the fire burned close to 700 acres just over the weekend, and forced more than 20 homeowners to evacuate; homeowners that will undoubtedly need to file insurance claims in order to try and address the devastation. It all started from a debris burn that got out of control, and as of April 1, was still not completely contained.
In fact, the effects of the Hurricane are so severe as to continue to threaten the health and safety of Florida residents that, on April 2, Gov. Ron DeSantis signed an executive order extending the state's "State of Emergency" status for another 60 days. The counties affected by the extension include Bay, Calhoun, Franklin, Gadsden, Gulf, Holmes, Jackson, Jefferson, Leon, Liberty, Okaloosa, Walton, Washington, and Wakulla counties.
Home Damage in Florida Only Likely to Increase 
Hurricane Michael caused more than 70 million tons of trees to fall between the Georgia border and the Gulf Coast; most of which have not yet been cleared. Experts estimate that it will still take close to $40 million to remove debris and address other hazardous issues left over from hurricane Michael.
According to climatologists, this year has also been an especially dry year for the state, which only makes things worse during peak wildfire season in April and May. According to state Forest Service officials, at this point, even a normal wildfire season could catastrophic because of all the available "fuel;" with all of the trees lying on or near the ground described as "the perfect kindling." This is likely to make life even more difficult for residents who still have not recovered from Hurricane Michael; especially those who still have not been made right via their insurance claims. Michael was the strongest hurricane to ever hit the Panhandle, and only intensified over time due to the warmer-than-average temperatures. According to estimates, hurricane industry losses just in 2018 are estimated at $11 billion, representing market wide insured loss to public and private insurers. 
If You Are Dealing with Hurricane Insurance Claims in Florida, Contact Our Experienced Attorneys
So many homes were already destroyed in Hurricane Michael, and now this latest disaster hits Floridians. If your home has suffered from Hurricane Michael, a wildfire, or any other disaster, contact our experienced Fort Myers hurricane insurance attorneys at HD Law Partners today to find out how we can help ensure that you receive the compensation you need to get back on your feet.
Resources:
artemis.bm/news/hurricane-michael-industry-loss-hits-11bn-florence-5-5bn-aon/
tampabay.com/breaking-news/hurricane-michael-debris-fuels-500-acre-wildfire-in-florida-panhandle-20190401/
newsherald.com/news/20190402/hurricane-michael-state-of-emergency-extended-for-panhandle-counties
ecowatch.com/marine-heat-waves-dolphins-2633506677.html?rebelltitem=4
https://www.hdlawpartners.com/as-hurricane-michael-insurance-claims-are-delayed-floridians-could-be-made-homeless/