How to Resolve Disputes Over Yard Signs Between Homeowners and HOAs?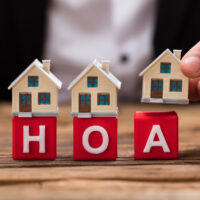 Many homeowners choose to put signs in their yards to express their political views or opinions on controversial issues. While the U.S. Constitution protects freedom of speech, homeowners who display or place controversial yard signs in their yard may get into disputes with their homeowners' associations (HOAs).
Who's Right in Yard Sign Disputes Between Homeowners and HOAs?
The practice of displaying political or other signs outside of your home is not prohibited in many neighborhoods and rural settings. However, when a homeowner lives in an area governed by an HOA, they may have to comply with the association's rules regarding what homeowners can and cannot place in their yard.
Often, homeowners are restricted from:
Putting signs, banners, or flags in their yard
Placing certain decorations outside
Painting their home
Having certain pets
Many of the restrictions trigger disputes between homeowners and their HOAs. When this happens, the parties should contact a homeowners' association attorney to help them resolve their disputes in accordance with applicable state laws and ordinances. Typically, who is right in a yard sign dispute between homeowners and HOAs is determined on a case-by-case basis.
The Legality of Placing Yard Signs
While homeowners are required to abide by the same rules imposed by their HOAs, it is not uncommon for homeowners' associations to favor or single out certain homeowners or even impose rules that are not in the HOA's governing documents.
In the past, courts have found that the right to display political or other yard signs in HOAs is not protected under free speech rights. Instead, whether or not a resident is allowed to place yard signs depends on the association's guidelines as well as laws of the city, county, or town where the homeowner lives.
The question of the legality of placing yard signs depends on the guidelines established by the homeowners' association and the circumstances of your unique case. Whether or not an HOA has a legal right to enforce a ban on yard signs depends on the state you live in and the association you reside in.
It is advised to contact an Orlando homeowners' association lawyer to review your particular situation and find ways to resolve your dispute based on the laws and ordinances of your city, county, or town.
How to Resolve a Dispute Between Homeowners and HOAs?
If a homeowner disagrees with their association's rules on placing yard signs, they must contact an experienced lawyer. The first step in conflict resolution is to try mediation. If no mutually acceptable agreement is reached, a homeowner and HOA may try to resolve their dispute through arbitration. The third option is to file a lawsuit and resolve the dispute in court.
Seek legal counsel from our Orlando homeowners' association lawyers at HD Law Partners to review your particular situation and help you resolve a dispute over yard signs. Talk to our attorneys about the reasonableness of the implementation or enforcement of restrictions on political or other yard signs. Call at 813-964-7878 to receive a free consultation.
https://www.hdlawpartners.com/addressing-homeowners-association-residents-concerns-surrounding-use-of-facilities-hoa-fees/