What If an Accident Isn't Minor or Severe?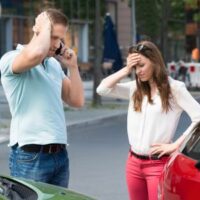 Car accidents are often classified into two categories based on their severity, minor or severe. But while these two labels apply to many accidents, there are still others that fall somewhere in between. Often insurance companies and legal representatives will refer to these accidents as  moderate collisions.
Moderate accidents can be tricky to navigate from an insurance negotiation standpoint, as the injuries and damages sustained are not always clearly defined. But compensation is possible after a moderate collision, and when you need financial recovery in order to move past an injurious event, a Tampa personal injury attorney can help.
When an Accident is Labeled as Moderate
Accidents that fall between minor and severe accidents can involve moderate damage to the vehicles and there may be physical injuries sustained by the victims that are not immediately apparent. Common injuries from moderate accidents include whiplash, back injuries, and soft tissue injuries.
One of the challenges of moderate accidents is slow-to-show injuries. Injuries that do not appear until later because the accident victim experiences an initial adrenaline rush that masks some or all of the injury's pain and discomfort. But harm has been done, and the accident victims start feeling the effects of the accident days or even weeks after the accident occurred.
Compensation Is Possible after a Moderate Collision
In Florida, Personal Injury Protection (PIP) insurance is required, meaning an individual's own insurance will provide coverage for medical expenses and lost wages up to $10,000, regardless of who was at fault for the accident. Often PIP is the appropriate avenue for financial relief for  people seeking moderate accident financial damages.
But there are also plenty of situations where PIP insurance does not cover all expenses related to an accident. If the victim's injuries are cost-intensive and they exceed the $10,000 PIP limit, compensation from the at-fault driver's insurance company may need to be pursued. In cases where the at-fault driver is not adequately insured or does not have enough insurance to cover all of the financial losses, a lawsuit could be filed in order to secure compensation.
A Florida injury lawyer who has experience with car accident cases knows how to fortify a claim, whether an accident was minor, major, or somewhere in between. Legal experts can gather evidence, such as medical records, witness statements, and accident reports, and negotiate with insurance companies on your behalf.
If you've been involved in a moderate accident, don't hesitate to contact a Tampa personal injury attorney to learn about your settlement options. You do not have to label your accident as one that is minor, moderate, or severe, lawyers and insurance adjusters will go through the analysis process and inform you of their findings.
Who told you that you were involved in a moderate collision? If you were contacted by an insurance adjuster and offered a settlement amount that you believe is too low, reach out and share the details of your situation with the legal team at HD Law Partners. Our Florida injury lawyers will ensure that you receive the compensation you deserve. To schedule your fee-free consultation, call 813-964-7878.