Top Reason For Slip And Fall Injuries: Wet Floors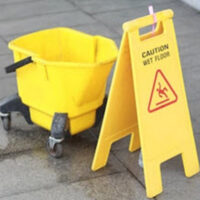 When people think of slipping and falling, they may think of how people fall in movies and cartoons. In entertainment, people fall because of marbles, fruit peels, and rugs pulled out from under them. While entertainment provides a lot of enjoyment and relief, the reality of slip and fall injuries is not funny at all. Many visiting and living in Florida slip on wet floors at businesses, either because a spill was not mopped up or a cleaning solution leaked, and face a long physical recovery as a result.
Before you decide if you should accept an insurance settlement offered or pursue a lawsuit, talk to a Tampa personal injury attorney. Monetary damages are possible when a business owner did not maintain their property safely or behaved recklessly. Liability laws are in place to protect your rights.
Businesses Need to Be Held Accountable
After a wet floor injury, making the move to be compensated fairly means you are standing up for your own rights and possibly helping others avoid the same injury you sustained. When businesses need to pay for damages, it is more likely they will repair the issue that caused the injury to begin with.
So if you have slipped, tripped, or fallen, be sure to have your health assessed by your primary care physician, urgent care doctor, or other licensed healthcare professional. Injuries as a result of a fall can be slow to show. It is common for fall victims to initially think a pain is small, that they can ice it and will feel better later. Sometimes this is true, but in other situations the pain is a symptom of a large health issue in need of treatment.
Bring the documentation you have, including images of the accident scene and doctor reports, to your initial meeting with a slip and fall lawyer. Then, how to hold the business accountable and get your expenses settled can be discussed and an agenda can move forward.
Discuss Your Wet Floor Injury with a FL Lawyer
A business manager or owner may say you are responsible for all of your expenses, suggesting you should have avoided the risk. But you do not have to take their word for it if you believe you have a reason to pursue damage compensation. Share the details of how the accident occurred and what injuries you sustained with a Tampa personal injury attorney. Then, a path forward can be established.
Did you slip and hurt yourself on a wet floor at a Tampa business? Pursuing damages from a Florida business can be complicated, but a lawyer can guide you through the process. Talk to a legal professional about how to protect your rights. Discuss your objectives with the compassionate and experienced legal team at HD Law Partners. Coping with an injury is hard enough, but adding large medical fees and income loss to the situation can be stressful and depressing. Thankfully, help is available. To get started, call 813-964-7878 to schedule a free consultation.