How a Landlord-Tenant Attorney Can Help You When It Comes To Good Tenants with Bad Credit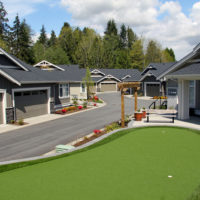 When it comes to being a landlord preparing your property to be rented by tenants, there are a number of helpful tasks that a landlord-tenant attorney can help you with. This includes precautions that will likely provide you with more protection than simply working with a property management company that does not have any experienced attorneys on staff.
Let's take, for example, the task of finding your tenants: Let's say you and/or the property management company having potential tenants that appear to be good on paper, but also appear to have bad credit. An attorney can help you build in some protection for yourself in case these tenants do not work out. Start by running through their references, and remember that a credit score does not tell the whole story, especially if someone experienced a couple of difficult years. You can ask their references about what is important as a landlord—did they pay rent on time, respect the premises, etc. —and then ask the tenant for additional specifics as to why their credit score might be low.
Asking About References
Here are some overall questions you may want to ask references about your prospective tenants:
How frequently was the tenant late with rent, if at all?
Did they take good care of the property? What about basic maintenance?
How frequently did they get in touch, and over what issue(s)?
Were there any complaints about the tenant from neighbors?
Under what conditions did the tenant leave? Did they provide enough notice?
Speaking With the Prospective Tenant
You should also speak with the tenant about their poor financial score and what might have caused it. For example, if they, at one point had to declare bankruptcy, that could be an indication of where they were at financially at that point in their lives, but doesn't necessarily indicate that collecting rent on time is going to be a problem now.
Additional Contractual Precautions
Also keep in mind that there are additional precautions you can take if you are concerned about your new tenant having a bad credit score; for example:
Collecting a larger deposit from them, and including, in their contract, that the deposit can be used at your discretion to address any unpaid rent and damage;
Opting for a month-to-month versus annual lease;
Considering having the tenant take over on accounts that you might have otherwise kept in your name, such as the water, garbage, etc.; and/or
Charging more in rent each month.
Contact Our Florida Landlord-Tenant Attorneys to Find Out More
As Florida landlord-tenant attorneys who have worked with a number of landlord clients over the years, we are here to help when it comes to any contract, legal, and other questions you might have about the process. Contact us today at HD Law Partners to find out more about our services.
Resource:
forbes.com/sites/forbesrealestatecouncil/2019/02/19/great-tenant-bad-credit-what-are-a-landlords-options/#3758129e3fee