Ensuring That Divorce Doesn't Negatively Impact Your Child's College Education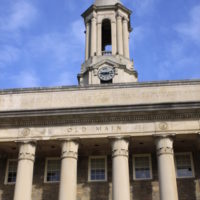 One of the biggest concerns that many couples who share children have is how divorce could possibly affect their children; specifically, whether pursuing a divorce could interfere with their child's ability to afford a college education. Below, we discuss how you can prevent your divorce from interfering with this important aspect of your family's life.
Everyone Should Have a Plan
According to a recent study by Ameritrade, two-thirds of married couples do not have a financial plan in place, even in the event of a spouse's death. With college costs increasing approximately three percent per year and four out of 10 marriages ending in divorce, this is beyond shocking. The average cost to attend a public, in-state school is $20,770 per year, and a private college costs approximately $46,950. Thus, even without the prospect of divorce, parents need to plan in order to afford college, especially because immediate family costs usually trump saving funds for a college education.
What the Law Dictates
When it comes to divorce, the law does not mandate that parents pay for college if those finances are not available. Courts are interested in what's in the child's best interest, which means the best school the child can get into if that's where they want to go. However, divorce agreements can address who pays for college, and many do build in a maximum of five years for making college payments if college payments are addressed.
Still, married couples, those contemplating divorce, and already divorced parents should re-evaluate whether their children plan to attend public or private school, as well as the availability of deferment, discounts for multiple children, grants, scholarships, and student loans.
529 Plans
The best way to save for a college fund is through a 529 plan, and to establish one prior to entering divorce proceedings, as the money is never taxed as long as it is used for education purposes. These plans are typically owned by one parent; thus, if a couple seeks a divorce, it is crucial that very specific plans for the 529 account be made in the divorce agreement.
One option for the 529 account is to split it in two or at least make it possible for both parents to monitor the account.
Florida Divorce Attorneys Who Can Help
If you and your spouse live in Florida and are seeking to dissolve your marriage, you should work with an experienced divorce attorney who will help ensure that you and your children are taken care of. Many attorneys work with financial advisors during the divorce proceeding in order to ensure that all of this is properly taken care of.
Our Florida attorneys at HD Law Partners have extensive experience in helping couples throughout Orlando, Sarasota, Tampa, and surrounding areas ensure that everything is planned for. Contact us today to find out more.
Resource:
cnbc.com/2018/05/18/how-to-keep-your-divorce-from-sabotaging-your-childrens-college-education.html