Raymond A. Haas
Partner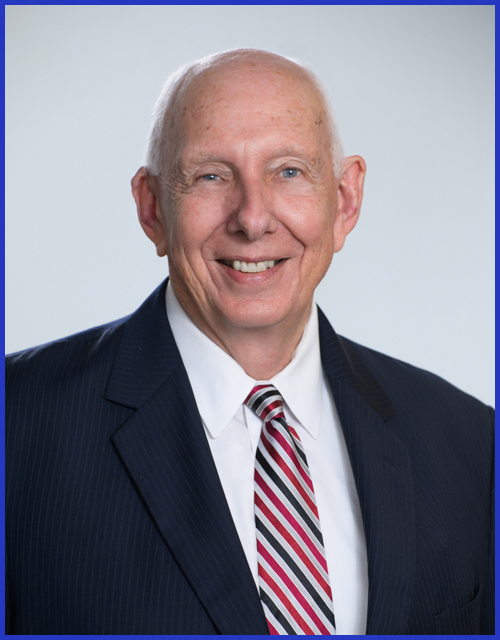 Mr. Haas was raised in Lakeland, Polk County, Florida. He attended Florida Southern College and graduated with a BS degree. He then attended the University of Florida Law School where he was distinguished as a member of the award-winning Moot Court Team, receiving the William C. Gaither Recognition for Best Oral Argument in the Moot Court Competition. He was also honored with seven book awards during his law school career, which recognize the highest course grade in the class.
Military Service
Prior to completion of his law school studies, Mr. Haas was commissioned as an Army Infantry Officer and rose to the rank of Captain as an Army aviator. Upon graduation from law school he transferred to the Judge Advocate General Corp of the U.S. Army.
Private Practice
Mr. Haas entered private practice in Daytona Beach with Clifford B. Gosney and the Honorable R. Michael Hutchinson, now Senior Judge retired from the Seventh Judicial Circuit of Florida. The firm grew to have offices in Daytona Beach and Orlando, and became known as Gosney, Haas, Cameron and Parsons with the Honorable William A. Parsons, who now serves as a Circuit Judge for the Seventh Judicial Circuit of Florida.
Mr. Haas then founded the law firm of Haas, Boehm & Brown, P.A. with offices in Daytona Beach and Orlando. That firm grew to be a 55-lawyer, statewide insurance defense firm, handling the defense of civil cases throughout Central and North Florida, with offices in Ft. Myers, Cocoa, St. Petersburg, Tampa, Lakeland, Orlando, Ocala, Tallahassee, and Daytona Beach.
During this period of time, Mr. Haas focused his practice on the defense of personal and commercial litigation, including the defense of bad faith claims. When the firm split, he relocated to Tampa and has been practicing throughout West Central Florida since that time.
Area of Practice
During the early years on the East Coast of Florida, Mr. Haas' practice was primarily focused in areas of workers' compensation, products liability, arson and fraud, as well as the defense of other property related claims. This grew into a particular interest in property related fields, and he became one of the founding members of the Florida Advisory Committee on Arson Prevention, otherwise known as FACAP.
The firm was retained by Lowe's Companies at the corporate level for the defense of products liability cases and was national coordinating counsel for Lowe's Companies in fire retardant plywood roof sheeting cases throughout the country, including the defense of class actions related to that product. Later the firm became involved with Lowe's Companies in more recent pressure treated wood litigation in the defense of individual law suits and class actions nationwide with claims of arsenic related poisoning due to the pressure treatment formulas utilized in wood products sold by Lowe's Companies.
Through the representation of personal lines insurers, Mr. Haas became involved in the defense of Bad Faith litigation primarily through the high volume representation of the State Farm Family of companies, including both Fire and Casualty, as well as State Farm Automobile Insurance Company, and through the representation of GEICO and its insurers. Through the personal lines litigation experience, he grew into a bad faith litigator. Presently the litigation of personal and commercial lines bad faith and personal injury/catastrophic injury cases predominate his defense practice.
Mr. Haas has tried more than 100 jury trials as well as many non-jury cases involving the defense of self-insureds, insurers and their insurers predominately. Additionally, he has maintained, and is proficient in, the litigation of domestic relations matters, which arose from his caring for many abandoned children as a licensed foster and crisis care parent. He also serves as a presenter and instructor for the Florida Defense Lawyers Association at its annual Trial Skills Excellence in Advocacy Workshop.
Memberships
Orlando Bar Association
Orlando Adjusters Association, Inc.
Florida Advisory Committee on Arson Prevention
West Coast Claims Association
Property Loss Research Bureau
Atlanta Claims Association
Hillsborough County Bar Association
American Bar Association (Member, Section on Tort and Insurance Practice)
The Florida Bar (Member, Trial Lawyers Section)
Florida Defense Lawyers Association
Recent Lectures of Note
Auto Coverage and Good Faith/Bad Faith Claims Handling GEICO
Litigating The Uninsured & Underinsured Motorist Claim National Business Institute
Insurance Bad Faith Claims In Florida Lorman Education Services
Auto Coverage & Good Faith/Bad Faith Claims Handling Haas Lewis DiFiore & Amos, P.A.
Medical/Legal & Property Seminar Haas, Lewis, DiFiore & Amos, P.A.
Good Faith Claims Handling Hartford
Insurance Bad Faith Claims in Florida Lorman Education Services
Legal Causation From Dollar One to Catastrophic Injury Haas, Dutton, Blackburn, Lewis & Wainoris, P.L.
Bad Faith – Avoiding the "Set-Up" Rimkus Consulting Group, Inc.
Handling The Pre-Suite Time Demand IMS Claim Services
Trials and Appellate Decisions
Hope v. Grzyb, Case No.: 11-CA-09281 Thirteenth Judicial Circuit, Hillsborough County
Phillips v. Culp, Case No.: 2012 CA 5996, Tenth Judicial Circuit, Polk County
Flood v. GEICO, CASE NO.: 8:11CV49T24TBM, U.S. District Court, Middle District of Florida
Geico General Insurance Company v. Otero et al, Case No.: 8:09-CV-1678-T-27AEP – Middle District of Florida
Miguel Huapilla-Paredes v. Tracy L. Mitchell Case No.: 09-CA-25419
Rick Dixon and Fredericka Dixon v. Gordon Adam, John Simpson and John
Simpson Excavating, Case No.: 05-009352,
Lorenz v. Lawson, 998 So2d 611, WL 105451, 34 Fla. L. Weekly D179, Unpublished
Disposition, Fla. App. 2 Dist., (No. 2D08-3851.)
Geico General Ins. Co. v. McDonald, 315 Fed. Appx. 181, WL 4946211, C.A. 11(Fla.), (No. 08-11973 Non Argument Calendar)
Macola v. Government Employees Ins. Co., 483 F.3d 1229, WL 1063258, 20 Fla. L. Weekly Fed. C 487, C.A.11 (Fla.), (No. 04-10436.)
Government Employees Ins. Co. v. Ourso, Not Reported in F. Suppl.2d, 2006 WL 1995178, M.D. Fla., (No. 8:06-cv-559-T-23TGW.)
Jacobs v. Home Depot U.S.A., Inc., 219 F.R.D. 549, WL 23126168, 58 Fed.R.Serv.3d 441, S.D. Fla., (No.01-944-CIV.)
York v. Falasca, 794 So.2d 664, 2001 WL 871557, 26 Fla. L. Weekly D1892, Fla. App. 5 Dist., (No. 5D01-474.)
Ross Dress for Less, Inc. v. Radcliff, 751 S.2d 126, WL 201831, 25 Fla. L. Weekly D166, Fla. App. 2 Dist., (No. 99-00291.)
Schwenzer v. School of Visual Arts, 706 So.2d 941, WL 88296, 23 Fla. L. Weekly D634, Fla. App. 2 Dist., (No. 97-02176.)
Pulte Home Corp. v. Osmose Wood Preserving, Inc., 60 F.3d 734, WL 420761, C.A.11 (Fla.), (No. 93-2314.)
Henson v. Haslam, 644 So.2d 1031, WL 637668, 19 Fla. L. Weekly D2439, Fla. App. 2 Dist., (No. 94-00016.)
Government Employees Ins. Co. v. Thompson, 641 S.2d 189, WL 445630, 19 Fla L. Weekly D1775, , Fla. App. 2 Dist., (No. 93-03704.)
Pulte Home Corp. Inc. v. Ply Gem Industries, Inc., 804 F. Suppl. 1471, WL 237386, M.D. Fla., (No. 89-205-CIV-T-17A.)
Jones v. State Farm Mut. Auto. Ins. Co., 579 So.2d 783, WL 21785, 16 Fla. L. Weekly 1074, Fla. App. 1 Dist., (No. 90-853.)
Mutual Fire, Marine and Inland Ins. Co. v. Florida Testing & Engineering Co., 511 So. 2d 360, 12 Fla. L. Weekly 1654, Fla. App. 5 Dist., (No. 86-1099.)
North American Catamaran Racing Ass'n, Inc. (NACRA) v. McCollister, 480 So.2d 669, 10 Fla. L. Weekly 2665, Prod. Liab. Rep. (CCH) P 10, 828, Fla. App. 5 Dist., (No. 84-1796.)
Hamm v. Ambassador Ins. Co., 456 So.2d 966, Fla. App. 5 Dist.,(No. 83-1438.)
Vermont Mut. Ins. Co. v. Bolding, 381 So.2d 320, Fla. App. 5 Dist., (No. 00-383/T1-134.)
Marine Distributors of Virginia v. Kelly, 374 So.2d 592, Fla. App. 5 Dist., (No. NN-446.)
Booth v. Basic Asphalt & Const. Co., 369 So.29 356, Fla. App. 4 Dist., (No. 77-2116.)
Ellis v. Golconda Corp., 352 So.2d 1221, Fla. App. 1 Dist., (Nos. CC-47 to CC-51.)
Liberty Mutual Ins. Co. V. Atkinson, 330 So2d 163, Fla. App. 1 Dist., (No. Z-93.)
Brown v. Clifford Shover Bldg. Inc., 328 So.2d 838, Fla., (No. 47404.)
Mae's Fabrics, Inc. v. Haddad, 312 So.2d 207, Fla. App. 1 Dist., (No. V-288.)
Travelers Indemnity Company v. Fields, 288 So.2d 278, Fla. App. 1 Dist., (No. T-170.)
Seabreeze Manor Verandah, Inc. v. Dominion Insurance Company, Ltd., 281 So.2d 568, Fla. App. 1 Dist., (Nos. Q-300 to Q-303, and Q-310.)
Travelers Indem. Co. v.Pender, 264 So.2d 878, Fla. App. 1 Dist., (No. P-218.)