11th Circuit (Including Florida) Opens Up Product Liability Ruling That Could Have Huge Implications for Product Manufacturers and Distributors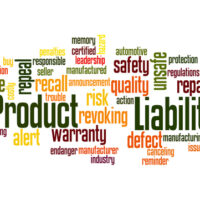 The Court of Appeals for the Eleventh Circuit (which includes Florida) recently reopened a product liability case (involving a plaintiff who sued Ford for breach of an implied warranty of merchantability due to a seat belt coming undone during an auto accident) that could have tremendous implications for manufacturers, distributors, suppliers, and others in the stream of commerce.
Specifically, while the previous judge ruled in favor of the defendant (Ford) in an allegedly defective seatbelt case – finding that the seatbelt worked when the truck was sold 10 years' prior and was "altered in the meantime," which led to the subsequent accident and injury (through no fault of the manufacturer) –  the US Court of Appeals for the Eleventh Circuit vacated the trial court's ruling (summary judgment for Ford), finding that a "reasonable person" could expect that a "seatbelt should not come undone in an accident 10 years later simply due to normal wear and tear."
Questions Court of Appeals Wants Answered
While the court has not yet technically found in favor of the plaintiff, what it has decided is essentially that the record contains sufficient admissible evidence to raise a genuine question of fact regarding whether Ford breached the warranty. The case is now remanded back to provide additional facts and, specifically, the appellate panel indicated that there were two questions that needed to be answered: 1) what the state standard for breach of implied warranty involves and 2) whether the record contained enough evidence to support the trial court's ruling. The court went on to explain that, while the trial court accounted for the seatbelt being 10 years old, it also needed to analyze what a 10-year-old seatbelt should be able to withstand.
In Florida, in order to recover for breach of a warranty, a plaintiff must be in "privity of contract" with the defendant – i.e. a mutual interest between the parties where one party can enforce a contract via a lawsuit against the other party. This standard has historically provided more leeway to manufacturers; regardless of whether the warranty is express or implied; if there is no privity, it isn't enforceable.
Contact Our Florida Product Liability Defense Attorneys with Any Questions
Case precedent in the U.S. Court of Appeals for the Eleventh Circuit, with jurisdiction over Florida, which dictates that a manufacturer could possibly be held responsible for accidents and injuries that arise from problems with a product that was in excellent condition when it was sold and has since been altered over the course of 10 years could be catastrophic to companies. This is simply too broad regarding taking an injury and attributing it to what cannot be a manufacturing defect, given that the product was in perfect condition when it was sold.
HD Law Partners provides product manufacturers and their insurers with a strong, effective defense. Contact our Tampa product liability attorneys today to find out how we can help.
Resource:
law.com/dailyreportonline/2019/08/09/11th-circuit-restarts-defective-seat-belt-case-against-ford/
https://www.hdlawpartners.com/florida-appellate-decisions-push-bad-faith-standard-raise-concerns/