Understanding the Impact Cuts, Lacerations, and Skin-Closing Procedures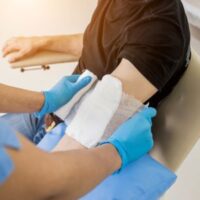 Dog bites, car crashes, and other injurious accidents can result in a range of harm, including cuts and lacerations. Deep cuts and skin tears require prompt and appropriate medical attention to prevent infection, promote healing, and minimize scarring.
Medical care can be painful and come at a high financial cost, if you sustained skin harm that required staples or stitches, you may be wondering how you can secure the monetary amount you need to settle your accident injury bills. Thankfully, there are legal experts available to guide you through the process. Bring your questions, concerns and hopes for the future to a Tampa personal injury attorney.
Types of Care for Skin Cuts and Tears
When it comes to treating cuts and lacerations, various methods can be employed based on the nature and severity of the injury. Common forms of care include:
Often a doctor's skin-closing procedure choice when a cut is larger, deeper, or jagged, staples provide a strong closure. With staples, the injured areas are stabilized and the risk of infection is reduced.
Sometimes referred to as sutures, stitches involve using medical thread to close the wound. Once the cut is closed, healing is promoted and the risk of scarring is minimized. While stitches are an important medical skin-closing option, they are not a suitable choice if a wound is wide or deep.
Adhesive strips. Also called butterfly stitches, adhesive strips are a useful choice for smaller, less severe cuts. These strips are not appropriate for a wound that requires an extensive closure, but they do bring the edges of the wound together for healing when a cut is minor.
It is also possible that a cut will impact individuals in different ways. For example, some who sustain cuts in accidents heal quickly with minor care, but if a person has an undiagnosed bleeding disorder, even a minor cut may lead to excessive bleeding, clotting issues, and other health concerns.
Car Accidents and Cuts
Broken glass, sharp debris, or contact with various surfaces within a vehicle can cause cuts to different parts of the body, so car accidents can result in a wide range of injuries. The harm sustained will vary in severity depending on the force of the accident and other factors. Car crash injuries have resulted in minor cuts that require minimal treatment and deep lacerations that may cause significant bleeding and tissue damage.
Skin harm, cuts, and lacerations sustained in car accidents or animal attacks should not be overlooked, as they require immediate and proper medical attention. Whether treated with staples, stitches, or other forms of care, protecting the body from infection is essential. And if you are concerned about the cost of medical care, discuss damage recovery options with a Tampa personal injury attorney.
Is a medical bill listing a wide range of care you received after an accident, including stitches or staples, causing you stress? A legal professional can assess your case and talk to you about the worth of your claim. Talk to the lawyers at HD Law Partners to protect your rights, call 813-964-7878.