Registering A Business Trademark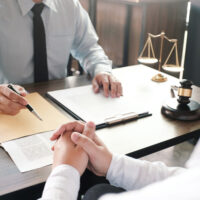 As attorneys who regularly assist clients here in Florida with trademark disputes, we also help to counsel clients on registering a business trademark. A business' trademark is essential in identifying its "brand" and protecting its goods and services, both in terms of another company using that brand and all of the various legal implications that can accompany this issue. A brand may also be associated with very valuable intellectual property that needs to be protected. Registering your trademark provides you with exclusive legal rights and protects others from copying it, and once your trademark is registered, it does not expire. Having a trademark attorney assist you is crucial in ensuring that this is done correctly and in accordance with the law.
What Is a Trademark?
As defined by the United States Patent and Trademark Office, trademarks are words, symbols, phrases, designs, or all of the above that identifies the source and distinguishes it from others. Note, however, that the name of a business is not necessarily the trademark, and may not be registerable. Trademarks are often used to refer to both goods and services even though, technically, a service mark protects services.
Timing & Process
Timing is also very important when it comes to trademarks. They should be registered as soon as possible, and the process can take between six months to a year or more, however, businesses should not invest a lot of time and money into a brand until they have consulted an attorney who can assist them with researching what is already registered. Your attorney can assist you in choosing a name that is unique enough to avoid being imitated but also provides the consumer with enough of a descriptor to know what it is exactly that you are selling.
The Application Process
Once you have your trademark, you and your attorney file an application with the United States Patent and Trademark Office. In order to do so, you will need to gather important, relevant business information. Note that different components are registered under different marks, for example, logos as design marks, slogans as word marks, etc.  Therefore, if you are filing for the protection of your business, slogan, logo, etc., you will have three separate applications—one design and two word mark applications.
Each type of application has its benefits and the initial review can take between one and three months. These include:
Teas Plus: Requires the most information;
Teas Reduced Fee: Does not require as much information and allows you to customize your descriptions;
Teas Regular: Requires the least amount of information and is the most expensive.
Contact Our Florida Business & Commercial Litigation Attorneys with Any Questions
If you have any questions about trademarks, contact our Sarasota commercial litigation attorneys at HD Law Partners today to find out how we can help.
Resource:
businessnewsdaily.com/15358-register-business-trademark.html
https://www.hdlawpartners.com/floridas-new-assignment-of-benefits-law/