Important Considerations after Divorce and Before Remarrying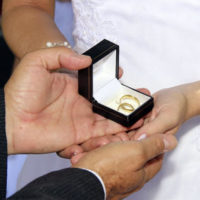 In one woman's story of divorce, as recently featured in The Washington Post, she describes divorce becoming easier as a couple nears the one-year mark, where "what once seemed like an end is actually a beginning." For many, life eventually takes them towards entering a second subsequent marriage.
But are there particular precautions and important considerations that should be taken by those who are planning to get married a second time, particularly if they have children from their first marriage? Indeed, second marriage can involve additional complications, particularly if blended families are involved. Below, we go into detail about how you can ensure that you and your family are protected.
Protecting Assets & Accounts in Marriage and Divorce
Absent an agreement indicating otherwise, Florida law mandates that marital property be split equitably. While many younger couples don't worry about protecting assets or keeping separate bank accounts when they initially enter into marriage, for older couples who already own their own homes, retirement funds, and other assets, protecting these assets—possibly in the interest of their children's future(s)—are often a number one priority.
In order to do so, working with an experienced family law attorney in drafting a carefully-worded prenuptial agreement is extremely important. A prenuptial agreement can not only help protect your assets, but also address your second marriage in the context of any child and/or spousal support you may be paying from your first.
In addition, your attorney can help you set up separate accounts: joint accounts to pay for expenses like the mortgage and groceries, and individual accounts to cover other bills. Remember that creditors are not always bound by divorce settlements.
Consider a Trust
If you are concerned about your children from your first marriage, a trust might be your best option, as it can protect these assets even in the event of your death and your ex-spouse's second marriage. This not only applies to inheritance and funds, but to your home (and leaving it to your children) as well.
Social Security
Also keep in mind that if your first marriage lasted 10 years or longer, you may be entitled to a social security check based upon your ex-spouse's income. However, if you remarry, this no longer remains the case.
Consult With an Experienced Florida Divorce Attorney
If you are in the process of getting divorced or entering into a subsequent marriage, it is critical that you consult an experienced divorce attorney. Not only is it important to keep your estate plan updated, but pre- and postnuptial agreements are only valid under certain circumstances, and an experienced family law attorney can help provide you with guidance in protecting your assets and navigating their future management.
If you or someone you know is preparing to get married or going through a separation or divorce, contact the family law attorneys at HD Law Partners today in Orlando, Sarasota, or Tampa. Our experienced Florida divorce lawyers provide the legal representation you need in these cases. Contact us today.
Resources:
washingtonpost.com/news/soloish/wp/2017/06/06/how-do-you-keep-a-family-together-after-a-divorce/?utm_term=.5de6c1f1319b
forbes.com/sites/markeghrari/2017/06/02/second-marriage-and-estate-planning-5-things-you-may-not-have-considered/