Food Poisoning and Falling Objects, Assessing Restaurant Illness and Injury Risks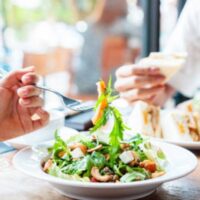 Restaurants and bars are popular destinations for outings, which makes sense as they are go-to gathering places to enjoy good food and connect with family members, long-term friends, and meet new people. While going to dining establishments can lead to many positive memories, there are also situations where injuries are sustained as restaurants and bars can have various risks to patrons, including food poisoning, falling debris, slip and fall accidents, and security failures.
Wondering what to do and who to turn to for advice after a restaurant injury or illness is natural, but consulting with a Tampa personal injury attorney can shine light on your options moving forward, whether you fell ill due to food poisoning, were hurt in a slip and fall event, or sustained  injured because of a security risk.
Food Poisoning and Slip and Fall Hazards
Food poisoning, either because of improper food handling, inadequate sanitation practices, or contaminated ingredients, can lead to severe illness that requires medical care and time off work. Three common food poisoning pathogens are Salmonella, E. coli, and Norovirus. All three of these pathogens can lead to nausea, vomiting, diarrhea, abdominal pain, or a combination of these symptoms. Any establishment that serves food could carry a food poisoning risk, including Tampa bars that serve burgers and fries, fast food chains, and high priced fine dining restaurants.
Additionally, when a restaurant has a bustling atmosphere, it is possible that staff members are moving quickly between tables with large trays full of dishes, drinks, and food. Because of this, a person could be injured due to a falling object while visiting a Florida restaurant, which can cause significant injuries, including head trauma, lacerations, and fractures. These types of injuries can also be sustained in slip and fall events due to spills, wet floors, or uneven surfaces.
Security Failures and Personal Safety
And when there are not adequate security measures in restaurants and bars, staff and guests could be vulnerable to criminal activities, such as assaults or robberies. Depending on the location, insufficient lighting, lack of surveillance cameras, or a failure to hire security personnel could expose individuals to unnecessary dangers as ensuring a safe environment is the responsibility of the property owner.
After an injury in a public place, such as a Tampa bar or restaurant, take the following steps to protect your rights.
Have your injuries assessed by a medical professional immediately.
Report the incident to the management and obtain a copy of the incident report generated by the establishment.
Write down details of the incident and take photographs of where the accident occurred and your injuries as they move through the healing process.
Ask for contact information from any individuals who witnessed the event.
It is also advisable to consult with a knowledgeable Tampa personal injury attorney who can guide you through the claim process.
Have you been injured after going out to a Florida restaurant? Talk to the attorneys at HD Law Partners about the worth of your claim. Call 813-964-7878 to schedule a confidential, free consultation.