Business Disputes And Arbitration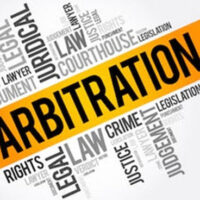 If you are pursuing legal action in connection with a business contract dispute, it is possible there is a provision in the contract to move toward arbitration. An alternative to traditional litigation paths, arbitration has some similarities to mediation in that there is a neutral third party who reviews documentation, listens to arguments, and gives their opinion. An arbitrator's decision is binding.
Legal issues can weigh down profits and productivity of organizations. If you are a Florida business owner and you have found yourself in the middle of contractual disputes, you need a Tampa business & corporate law attorney to guide you through your legal options. Take care of any problems as soon as possible so you can put the legal dispute in the rearview mirror.
Pros and Cons of Arbitration
Before agreeing to the process and moving forward with arbitration, understand the advantages and disadvantages. Because whether mandatory arbitration is included in the contract in question or not, you need to know what to expect so you can prepare for the process and the possible outcomes.
Arbitration pros:
Faster than litigation. Because the arbitration process has more flexibility than local courts, a resolution will likely be far faster. This is because time and locations are generally open to discussion and easier to schedule.
Less expensive. Since the process is stripped down, arbitration generally costs less and the expenses required to go through the process are split between the parties involved.
It's private. While trials can be part of public record, arbitration is done privately. For this reason, it is a popular choice when there are sensitive issues involved, including trade secrets or intellectual property.
Arbitration cons:
Decision is binding. Parties who go through arbitration have waived the ability to have a judge involved in their dispute. Because they have waived their right, the chances of being able to appeal or take other legal action are slim to none.
No guarantees. While arbitrators are qualified professionals in most cases they are not necessarily bound to precedent. Therefore, they could make a decision you were not anticipating. Courts, on the other hand, follow legal precedent.
Discuss the advantages and disadvantages with an attorney who is familiar with the details of your situation.
Personalized Attention
Talking to a Tampa business & corporate law attorney is important because once a legal professional has looked over your contracts, they can provide you with advice that is tailored to your unique situation and goals. In some situations, litigation is a preferable option. Or, if your contract states you must go through arbitration, there are ways to properly prepare.
Are you wondering if arbitration would be helpful for you and your business? Connect with the legal team at HD Law Partners to learn more about your options. With extensive experience in  business and corporate litigation, our lawyers will review your case and advise you on the path that will lead to the outcome you are seeking. Call 813-964-7878 to schedule a free consultation with a member of our team.