Broken Leg Treatment Plans Vary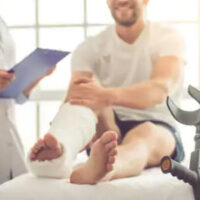 Accidents, such as car wrecks and slip and fall incidents, can result in a range of injuries, including bone breaks, and when fractures are sustained treatment plans vary. For instance, more severe leg breaks could require a lot of tests, such as MRIs and CT scans, and surgeries. While these are important parts of healing properly, they can often come at a high cost. Damage recovery may be needed in order for you to protect yourself from years of medical bills.
Securing an insurance settlement holds responsible parties accountable and allows you the financial funds you need in order to access the care to heal fully. Check with a Tampa personal injury attorney to learn about the worth of your personal injury claim.
Listen to Your Doctor and Strengthen Your Claim
What treatment plan is put in place will depend on your injury. Some fractures require immobilization and surgery, others are able to heal with reduced use and a lot of home rest. Whatever your healthcare team says you should do, do it. Listening to your doctor is necessary for you to heal as quickly and as fully as possible, and it is also essential to strengthen your claim.
For example, if your healthcare team tells you not to work for a set amount of time, listen to them. If you are worried about how to keep up with expenses or believe your employer won't allow you to take time off, talk to an attorney about your situation. You need more information, it may be possible to secure funds for lost wages as part of your personal injury claim and there could be a path to taking time off of work under the Federal and Medical Leave Act (FMLA). Because of FMLA protections, employees can often access job-protected leave for qualified healthcare reasons. While FMLA is unpaid, compensation could come later in your damage recovery award.
Disputes Typically Settle Through the Negotiation Process
If you find yourself stressed out about the thought of your broken leg injury leading to a personal injury lawsuit, know that the majority of personal injury disputes settle through the negotiation process. When an insurance company offers a settlement, it does not mean it is the final offer. A Tampa personal injury attorney can gather the evidence needed to argue your need for a higher amount. Lawyers who have had results in cases similar to your own can advise you on paths forward.
Do you have a lot of expenses due to a fracture, such as a broken leg, following an accident in Tampa or the surrounding area? Compensation could be likely and the compassionate and aggressive legal team at HD Law Partners can guide you through the process. To achieve the maximum recovery amount, share the specifics of your accident and medical recovery plan with our lawyers. The sooner you get your claim started, the sooner you will access the funds you need to secure the medical care required. Call 813-964-7878 to schedule a free consultation.