Martha Satchel
Florida Registered Paralegal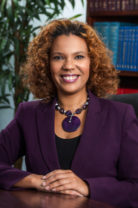 Martha Satchel has been with HD Law Partners for more than sixteen (16) years and has worked with Mr. Haas as well as several of the other attorneys involving the defense of self insured, insurers and their insured predominantly. Mrs. Satchel is the wife of a retired military veteran serving more than twenty (20) years in the United States Army and United States Air Force, and mother of two (2) boys.
Mrs. Satchel was employed as both a property adjuster and bodily injury adjuster for Coddington Adjustment Company in New Jersey prior to her husband's deployment to Karlsruhe, Germany. In Germany Mrs. Satchel worked for the S2/S3 Division in Heidelberg, Germany in their security department and maintained a high level of security clearance.
Upon return to the states Mrs. Satchel went to school during deployment and graduated from college with an Associates Degree and continued on and earned her paralegal degree while raising their two (2) children. Mrs. Satchel has worked as a legal secretary and worked her way to a senior trial level paralegal with HD Law Partners and has been employed with HD Law Partners since June of 1999. Mrs. Satchel's desire and passion has made her a true asset. Florida Notary. Florida Registered Paralegal.