Dennis A. Meyers
Personal and Academic Background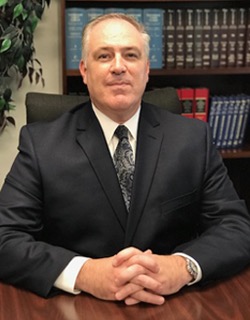 Mr. Meyers grew up in Scranton, PA, and attended Penn State University, graduating with a B.A. in International Politics and a Minor in Middle East Studies. He then attended Roger Williams University School of Law in Bristol, RI. Just prior to graduating from law school, Mr. Meyers began working at Progressive Insurance as a licensed insurance adjuster. Shortly after graduating from law school, he moved to Florida and took an adjuster position with Hartford Insurance in Tampa before beginning his legal career.
Military Service
Having a strong military tradition in his family, after graduating from high school, Mr. Meyers enlisted in the U.S. Naval Reserves, serving as a Hospital Corpsman from 1987-1995. During his military service, and while attending Penn State, Mr. Meyers was called to serve in a combat zone in northern Saudi Arabia during Operation Desert Storm. For his service during that conflict, he was awarded a Letter of Appreciation from his commanding officer.
Legal Career
Throughout his legal career, Mr. Meyers has primarily focused his practice on insurance defense and commercial litigation. Mr. Meyers began his legal career in 2002 when he joined a state-wide insurance defense firm in Tampa, concentrating in workers' compensation and general liability cases. In 2006, he formed his own law practice continuing his concentration in insurance defense, while also progressively increasing his concentration in commercial litigation and intellectual property, handling litigation matters at both the state and federal level. After several years in his own law practice, he joined Barr, Murman & Tonelli as a partner, later joining and becoming a partner at Tampa Bay Business Law. Prior to joining HD Law Partners, Mr. Meyers was General Counsel for a national medical company based in Tampa.
Professional Memberships
The Florida Bar Association
The Hillsborough County Bar Association
United States Supreme Court
United States Court of International Trade
United States Court of Appeals – 11th Circuit
United States District Court – Middle District of Florida
United States District Court – Southern District of Florida
Community Involvement
Mr. Meyers maintains a strong belief in serving in his community, and has had extensive involvement in community organizations throughout Tampa Bay, to include:
21 & Change, Inc., Board of Directors, Secretary
Ybor City Development Corporation, City of Tampa, Board of Directors
Global Action Coalition, Board of Directors
Leadership Hillsborough (Class of 2013), Board of Directors, Board Chairman
CareerSource Tampa Bay, Board of Directors, Board Chairman
CareerSource Florida, Finance Council Committee Member
Hillsborough County Metropolitan Planning Committee, Citizens Advisory Board
South Tampa Chamber of Commerce, Board of Directors, Board Chairman
Candidate in 2010-2011 for Tampa City Council, District 4