Antitrust Filed Alongside Bad Faith Claims Unlikely to Advance, According to Federal Judge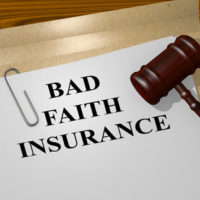 A case that could have huge repercussions on insurance litigation and insurance bad faith claims is in particular against State Farm insurance could go in the direction for the insurance company, according to reports. Plaintiffs brought antitrust claims against the insurance company, State Farm, alleging that it conspired with software makers to undervalue damage to homes in the due to fires; allegedly leaving homeowners with less than they needed to recoup the costs.
Complaints Against Valuation Tools
Specifically, the plaintiffs claim that State Farm relied on a valuation tool known as "360 Value," which is produced by Verisk Analytics and Insurance Services Offices Inc. According to the complaint, the tool estimates property values at only 30 to 40 percent of their actual value and, as a result, does not account for a number of important aspects and factors that are relevant in calculating insurance payouts. In addition, another tool, called "Xactimate," they allege, estimates construction costs at 50 percent below their actual market rates. For example, the tool estimated the cost of rebuilding one home at $804,000 when it actually cost $2.2 million, according to the complaint.
Antitrust Claims
The antitrust claim is based on allegations that the companies that produce these tools essentially monopolize the market, while providing flawed products, and State Farm has been complicit by decreasing ensures valuations for homes. However, the judge indicated that he did he was unsure that antitrust claims were appropriate for allegations linked to an insurance company allegedly relying on unreliable valuation tools that cost homeowners to suffer. Instead, he indicated that the product liability or negligence claim might be more appropriate.
In addition to the antitrust claims, the plaintiffs are alleging bad faith, breach of the implied covenant of good faith and fair dealing, false promise, negligence, intentional and negligent misrepresentation, reformation, and violations of state consumer laws that cover unfair competition and insurance practices. However, it is the antitrust claims that allow plaintiffs to pursue what are known as treble damages, which can triple any damages awards and, according to the plaintiffs, are necessary to actually recoup the costs of rebuilding. In addition, if plaintiffs prevail in the reformation claims, State Farm and other insurance companies could be forced to rewrite their insurance contracts and cover a small significant portion of homeowners rebuilding costs.
Contact Our Florida Insurance Litigation & Bad Faith Defense Attorneys
The law dictates that homeowners must ensure that their policy limits are adequate – that they review their policy limits carefully and consider insuring one's property for more than in order to address increasing costs of labor and construction. Our Tampa insurance litigation attorneys represent insurance companies of all types in defending against bad faith and other claims. Contact us today at HD Law Partners to find out more about our services.
Resource:
courthousenews.com/antitrust-claims-against-state-farm-unlikely-to-advance/
https://www.hdlawpartners.com/florida-court-finds-that-hurricane-insurance-company-did-not-act-in-bad-faith-in-outdoor-grounds-policy-endorsement/